Sourcing easy managed, profitable breeding sheep may sound easy, but after the recent cold, wet spell, and the resultant loss of lambs, flockmasters could well be forced to rethink future terminal and maternal sire policies.
While bare-coated, white-faced sheep have been the order of the day for many over the years, such has been the horrendous April and early May weather and the resulting lack of grass, that many ewes have struggled to produce sufficient milk therefore increasing the risk of mastitis and other diseases in lambs. 
Give it another six weeks or so when the weather improves and breathing difficulties and 'couping' can also become an issue.
For Lanarkshire farmer Russell Gray of Langside, Kirkfieldbank, the answer very much lies in the under-rated continental Charollais sheep breed, which can be used as a terminal sire over many breeds and crossbreeds and also produces a good breeding commercial ewe.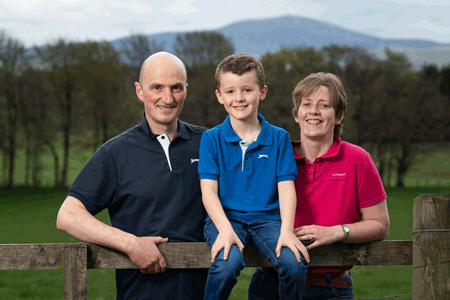 "Charollais sheep are easier cared for and don't have the problems associated with other breeds.  They are great mothers with the majority of them lambing themselves and the lambs are up and sucking in no time," he said.
"They do have a reputation for being bare coated and headed, but the breed has changed beyond recognition over the past 25 years, and they have much more strength, cover on their heads and a denser coat now."
"They can be lambed outside and they make a great cross for putting onto white-faced sheep, hoggs of any breed and Blackfaces because they are so easy lambed," said Russell, who alongside his wife Margaret and their seven-year-old son, Matthew, farms in partnership with his parents, Alex and Grace Gray.
However, while the breed has never proved to be the most popular north of the border, Welsh hill farmers are huge fans of this big French breed and Russell believes an increasing number of producers are now taking to the fast growing, easier managed attributes of crossbred Charollais.
"There has been an unprecedented demand for pure Charollais females to breed to a Texel or Beltex for breeding cross-bred tups and females in recent years. We have a huge number of customers looking to buy ewe lambs and gimmers privately every year, when the resultant cross-bred tups can sell for £1000 or more and the females make great mothers."
The family, who run pedigree flocks of Charollais, Suffolks and Texels alongside a registered dairy herd of 140 Ayrshire and Red and White Holsteins, also find the big continental breed is ideal for producing early lambs.
Sponged to lamb inside mid-December, albeit running outside during the day depending on the weather, while their Suffolk ewes lamb at the end of the month, Charollais produce offspring, which can easily match the daily liveweight gains of the native blacks, with the first of the progeny away just before Easter, through United Auctions, Stirling to catch the early lamb market.
This year, the business sold 55 lambs – a mixture of pure Charollais and Suffolks – before Easter to a top of £181 per head or a phenomenal 385p per kg.  This compares to the norm of 250-285p and a previous high of £3/kg.
"We get Charollais lambs away quicker and off less feeding than Suffolks too.  You cannot even run the two breeds together as Charollais tend to nibble their feed and eat slower and less compared to Suffolks which are more like 'hoovers."
"Charollais also weigh a lot heavier than they look.  You can look at a Charollais lamb and be confident it will be 42-43kg, but put it across the scales and it will read nearer 44-45kgs."
Russell, who is the current Chairman of the Scottish Charollais region, added that the adult females don't have the disease issues of other breeds either.  While the Grays do see an occasional case of mastitis in the Charollais and Suffolk, there are few major outbreaks. "Charollais have a different teat structure compared to other breeds in that the holes of the teats are smaller which helps keeps the bugs out.  It's the same in dairy cows.  Cows with big open holes in their teats are more susceptible to disease."
Furthermore as a breed, they hold their condition better than other breeds, as Russell has found they will still put on fettle even when they are weaned onto tight ground in March. 
The Grays also prefer to show the Charollais breed above their other breeds, and extremely successfully at that.  Just six year ago, the couple took the Royal Highland Show by storm to win not only the breed's champion and reserve honours, but also the interbreed individual and pairs competitions.  Add to that numerous championships at local events and two supreme breed titles at the Great Yorkshire, two out of three years exhibiting at Harrogate and the breed will always remain close to their hearts.
It was Russell who also instigated the introduction of the breed, some 27 years ago, with females purchased from Graham Reid, Netherallan and Austin Hyslop's Logan flock. It is however, a ewe lamb purchased at Ian Innes' Tullochallum dispersal for 300gns that has had the biggest influence on the flock, with all females tracing back to her.
Stock rams that have stamped their mark include Banwy Moonshine, along with Oakchurch Ozil, purchased at Worcester in 2012 and 2014, respectively, with the latter going onto secure the inter-breed sheep honours at the Highland Show in 2015 and breed a lot of top show females. 
The family also bought a ram from Myfyr Evans Rhaeadr flock that has made his mark breeding shearling rams to average in excess of £1000 at Kelso.
With so many positive attributes to the Charollais there has to be a negative and ironically, it appears to be the opposite to what many perceive. Far from being too bare, they have wool in every corner so much so that shearers hate them purely because they are so big and they hold onto their wool, Russell added.