The final Society sale of the year took place at Dunagnnon Farmers Mart for the female export sale of in-lamb shearlings and ewe lambs. A packed ringside of buyers from near and far saw a top call of 4200gns for ewe lamb Springhill 23WLK07088 from Graham Foster.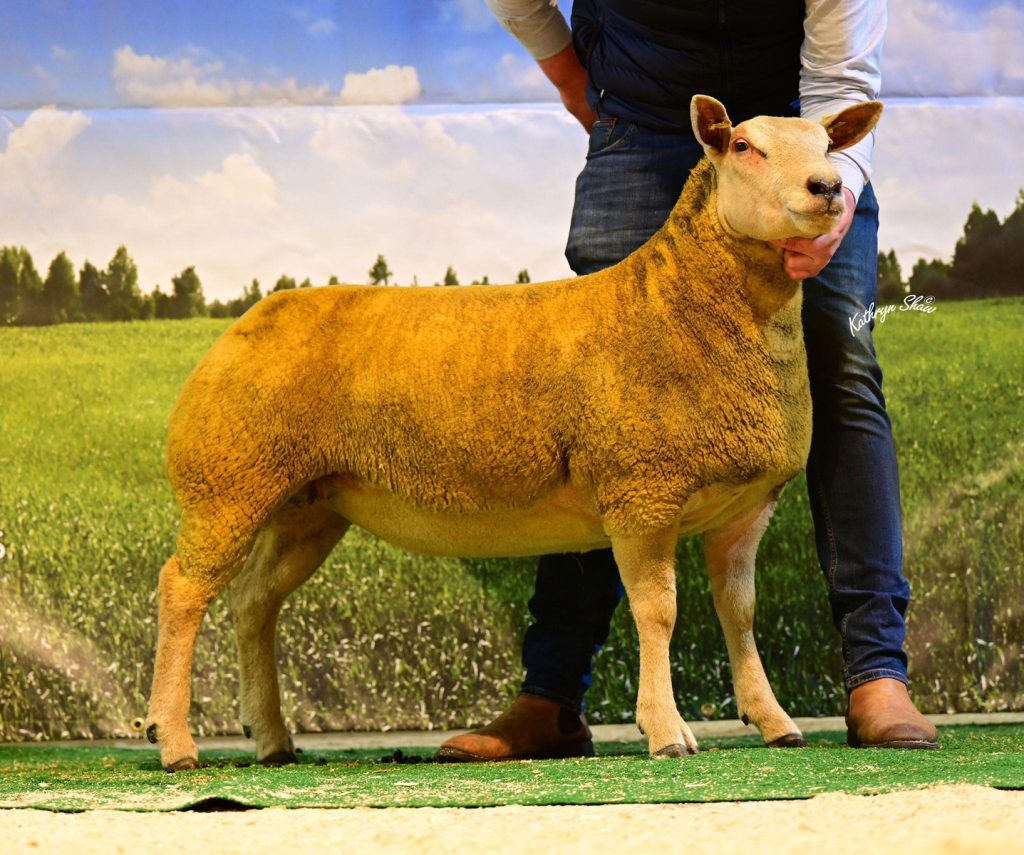 By Ballynoe House Playboy and out of a homebred Logie Durno Untouchable daughter she heads across the water to Devon-based Ben and Amelia Watts for their Willow flock.  
Secondly at 1800gns, was another ewe lamb from the Springhill pen, 23WLK07073. Sired by the homebred Aston Martin and out of a Lisfuncheon ewe, she headed home with previous buyers, Ben and Amelia Watts.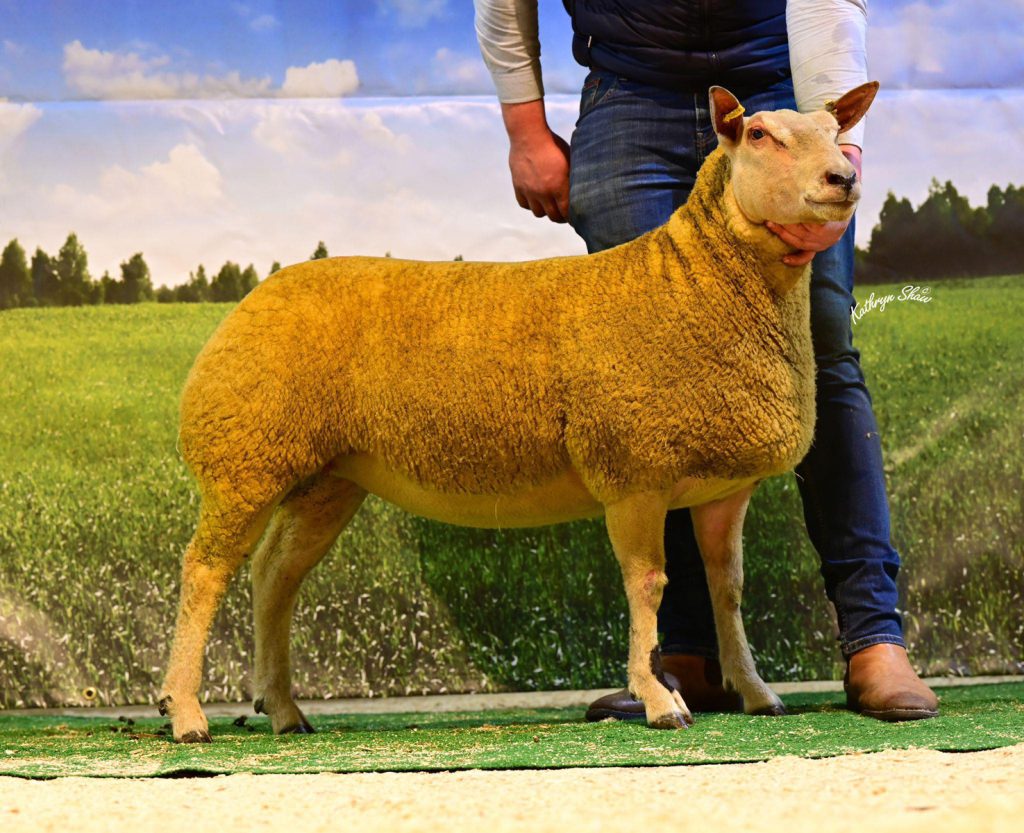 Following on was Iskeymeadow 23VFV00179, from R Powell. Out of a Logie Durno ewe and sired a homebred Arbryn Tonto son, she was bought by Sam Rankin, Castlederg, Co Tyrone for 1500gns.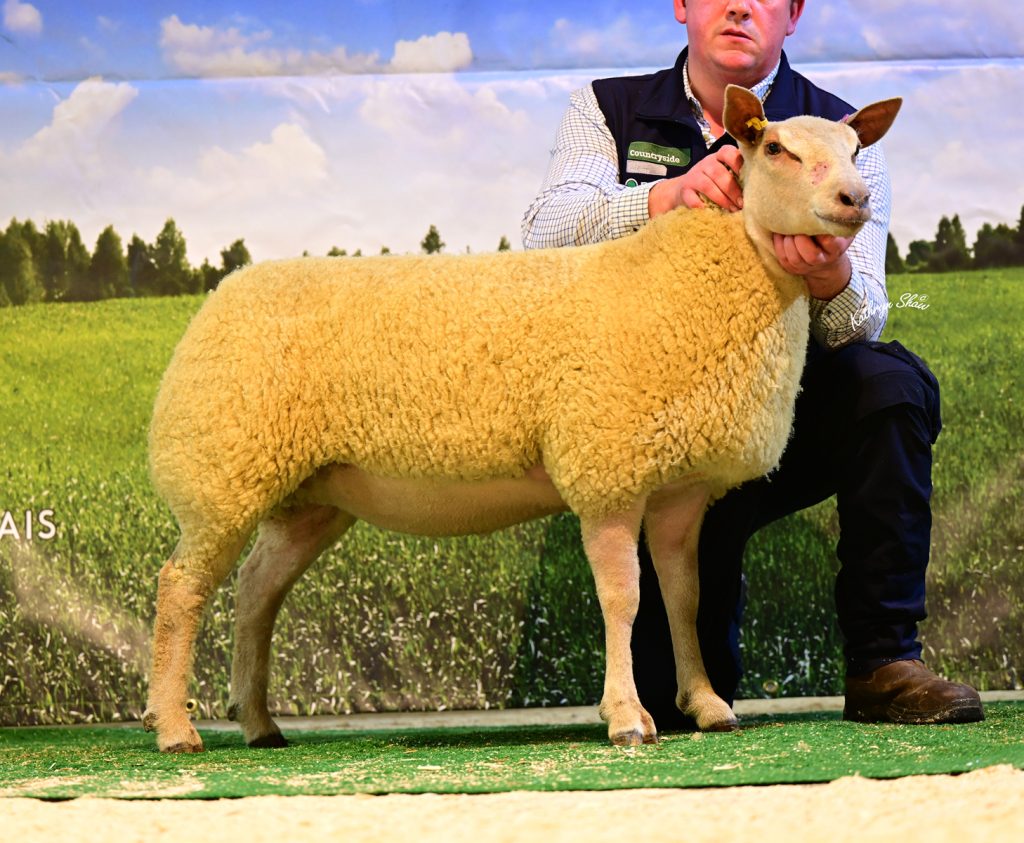 The hammer fell at 1450gns for Springhill 23WLK07034 from Graham Foster. Sired by homebred O'Driscoll and out of a homebred ewe who goes back to Boyo flock. She was taken home by Paul Brothy, Kellistown, Co Carlow.  
In-lamb shearlings
Leading the offering of shearling ewes at 2100gns was Kenny, Sheila and Geoffrey Malcomson with Ringclare 22YBX00918. Sired by Elmwick Up Front and scanned in lamb to Hollylodge Bulls Eye, she caught the eye of Ben Radley for his Dumfries-based Loaningfoot flock.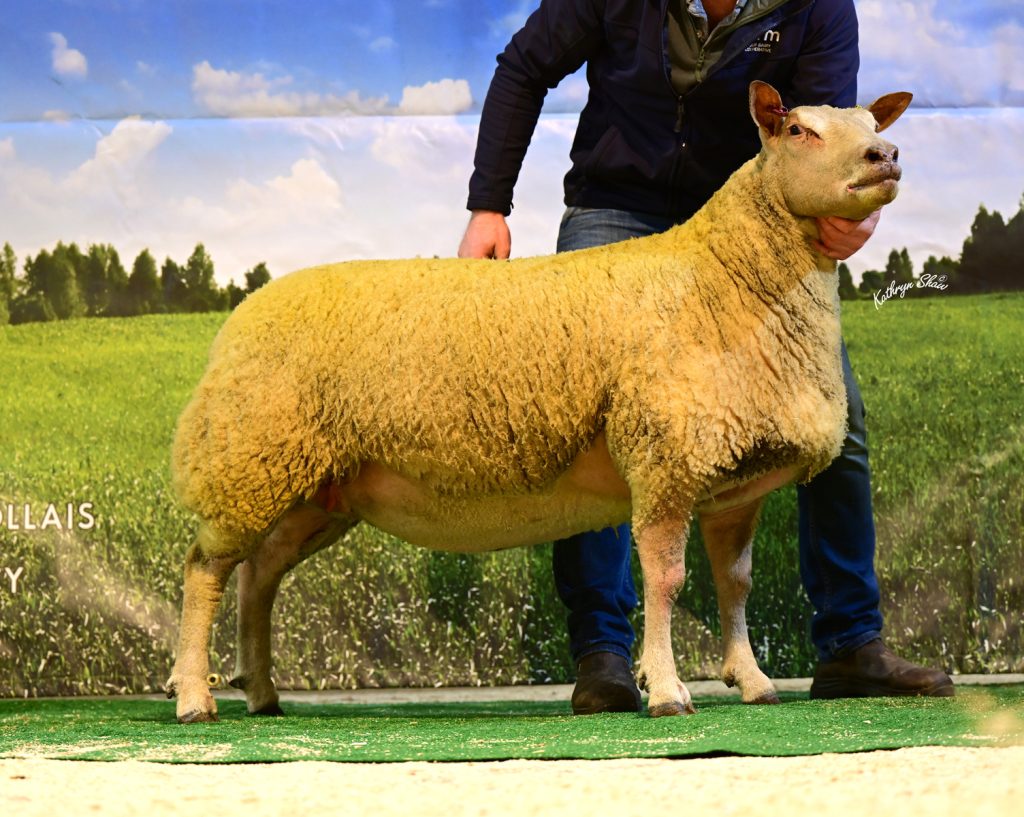 Next up at 1500gns was Hillside 22VBK00903 from Alistair Moore. Sired by Padrig Upperclass and out of a homebred Kirkhouse Remo daughter, she sold scanned in-lamb to Millhaven Attitude. Taking this one home to Ballymoney, Co Antrim, was James Reid.
At the same money was Rockvilla 22VV03734 from Mr and Mrs D Mawhinney. Due in December to a Tullyear tup and sired by Artnagullion Trojan, she heads to Omagh, Co Tyrone with Wesley Cousins.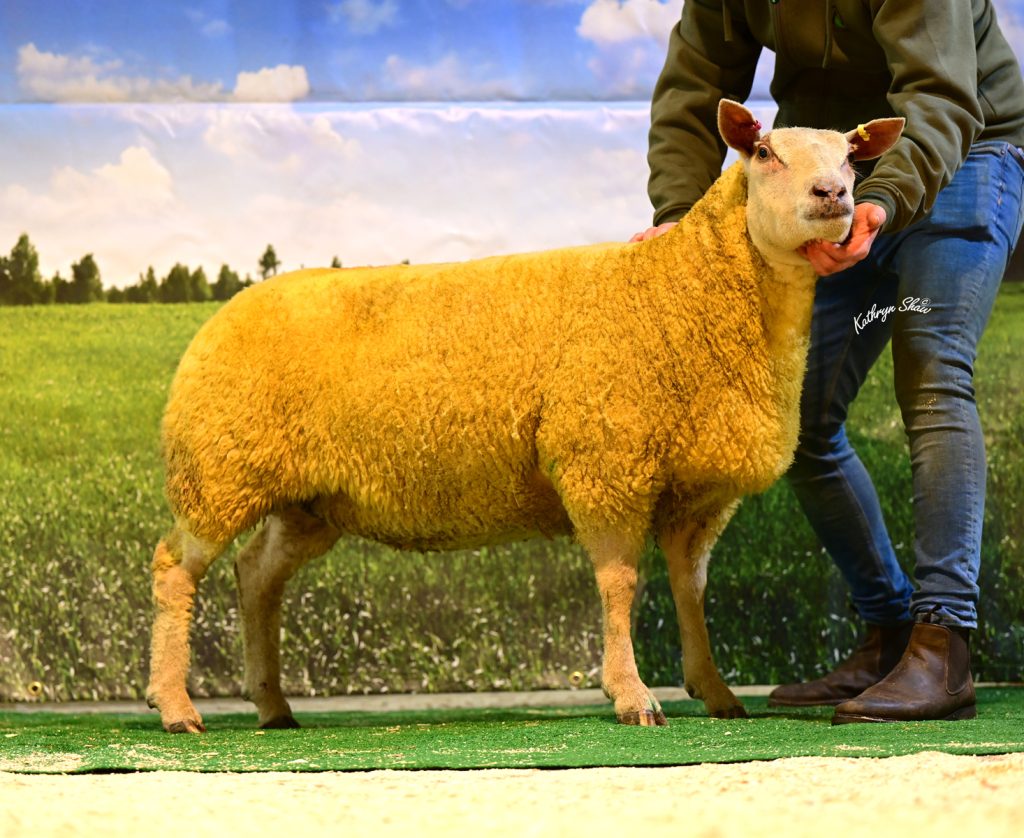 Three females then claimed a 1300gns price tag, the first being Glenn Baird's, Aghavilly 22VAB01947. Scanned in lamb to the homebred Belvedere and sired by Loanhead Virgil Van Dijk, she was purchased by John Waddell, Newry, Co Armagh.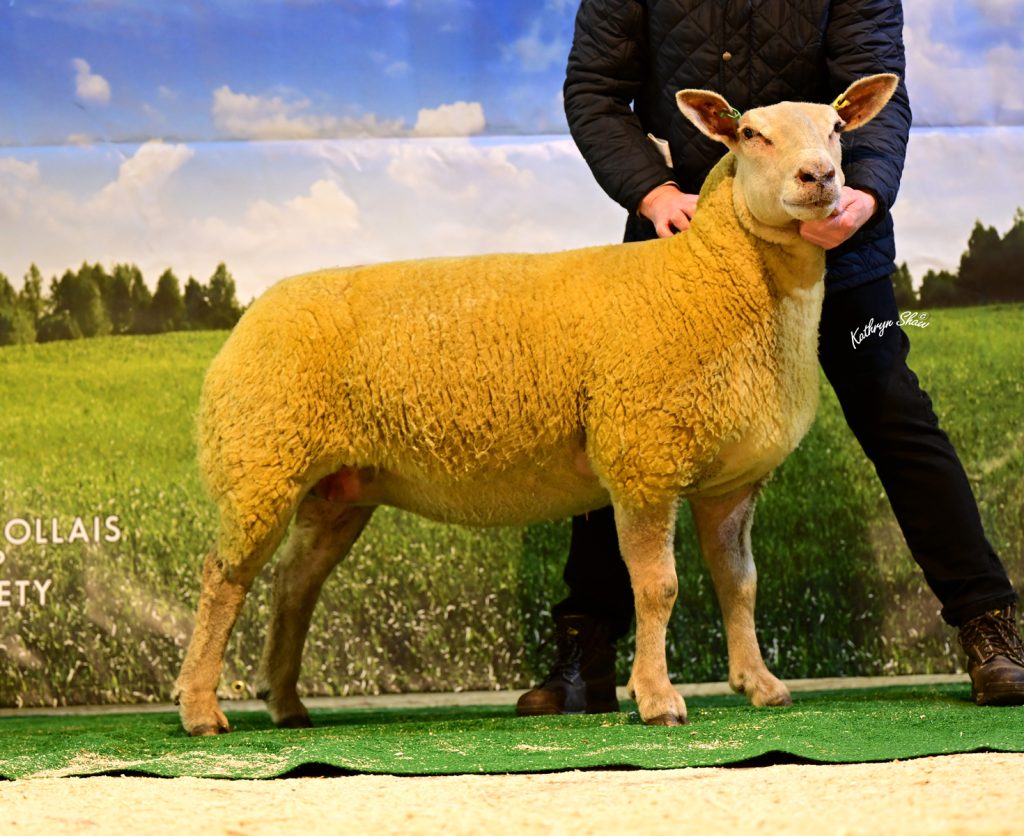 Next at 1300gns was Rockvilla 22VV03729 from the Mawhinney family. Out of a homebred Glyn Coch Mr T daughter and sired by Artnagullion Trojan, she is due in December to a Tullyear tup. Securing her at 1300gns was M Power, Askeaton, Co Limerick.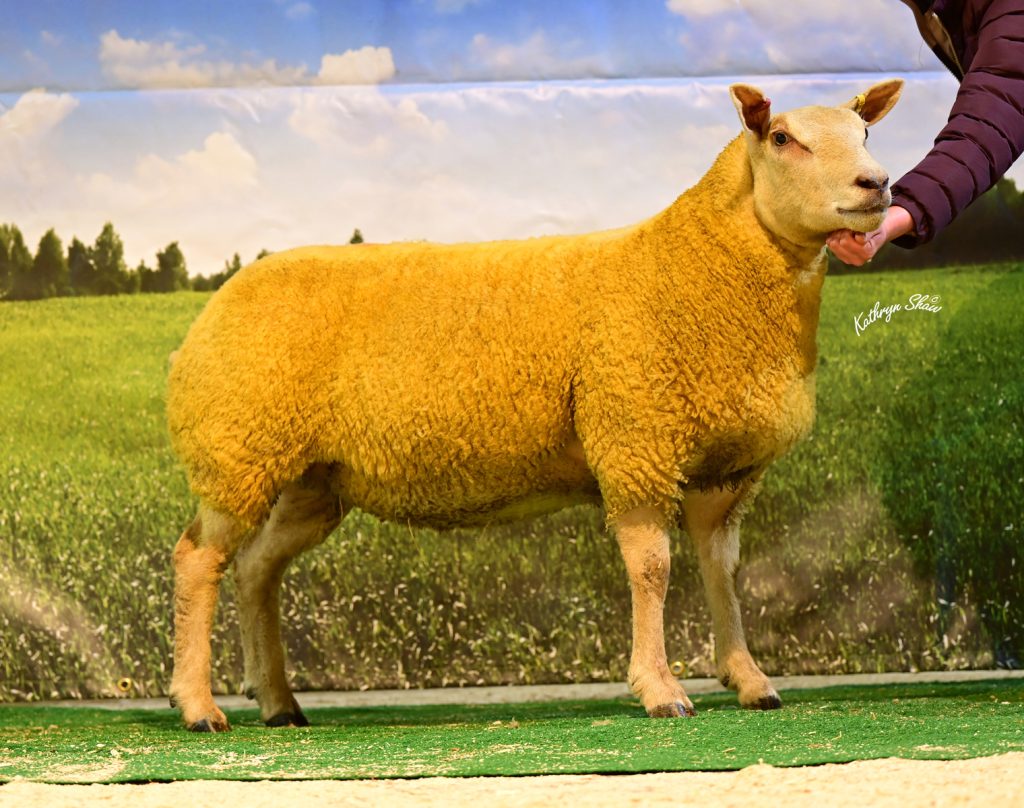 The last at 1300gns came from Drew and Stephen Cowan in the form of Tullyear 22QY04384. Sired by Duiske V Man and out of a homebred Ardcath Sullivan, she sold scanned in-lamb to Logie Durno Van The Man and was knocked down to previous buyer M Power.  
Closely following at 1250gns was another from Glenn Baird's pen, Aghavilly 22VAB01942. This one is by the Logie Durno Umpire son, Loanhead Virgil Van Dijk and out of a Tullyear ewe. She scanned in lamb to homebred Belvedere and went home to Co Roscommon with C O'Neill.
Back with the Cowan family and selling for 1200gns was Tullyear 22QY04233, a Logie durno Van The Man daughter out of a homebred Oakchurch Royal ryan daughter. She sold having ran with Duiske V Man to Paul Brophy, Co Carlow.
Two then followed with a 1100gns price tag, the first being Rockvilla 22VV03678 from the Mawhinney family, By Artnagullion Trojan and out of a homebred female by Glyn Coch Mr T, this one heads to previous buyer Paul Brophy.
The last of the in-lamb females on offer on the day was Tullyear 22QY04428 from the Cowan's pen. By Duiske V Man and out of a homebred Ardcath Sullivan daughter, this one found a new home with Martin Manning, Rathowen, Co Westmeath.
Averages:
80 in-lamb ewes £751.41; 33 ewe lambs £817.40 (Dungannon Farmers Mart)