Having clinched the breed and interbreed title at last year's Royal Highland Show, Ben Radley and his Loaningfoot show team returned to Edinburgh once again to re-take his breed championship honours and go on to win the reserve interbreed and interbreed pairs titles.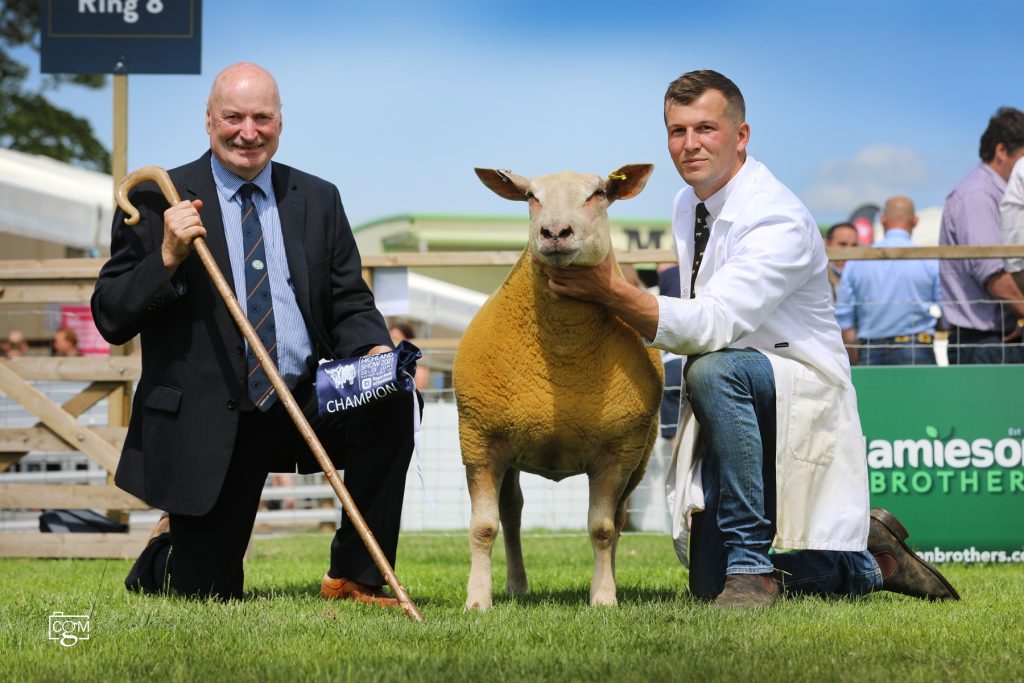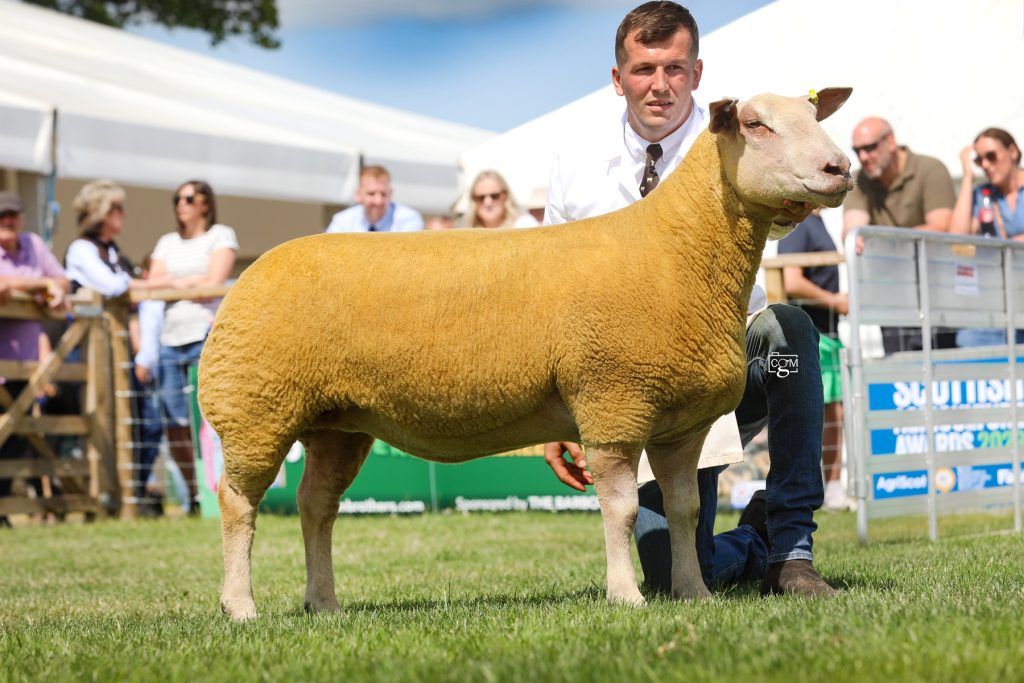 This shearling ewe, 22XZR01394 is by Foxhill Va Va Voom and is out of a Foulrice ewe by Foulrice Osprey. She teamed up with her sire and winner of the male championship from the breed classes, Foxhill Va Va Voom, to take the interbeed pairs title. Va Va Voom is no stranger to winning ways having been a formidable force on last year's show circuit. 
Commenting on his overall champion, judge Arwyn Thomas of the Arbryn flock said: "She was as close to perfect on the day, exhibiting natural fleshing, great locomotion and breed character, a real show girl."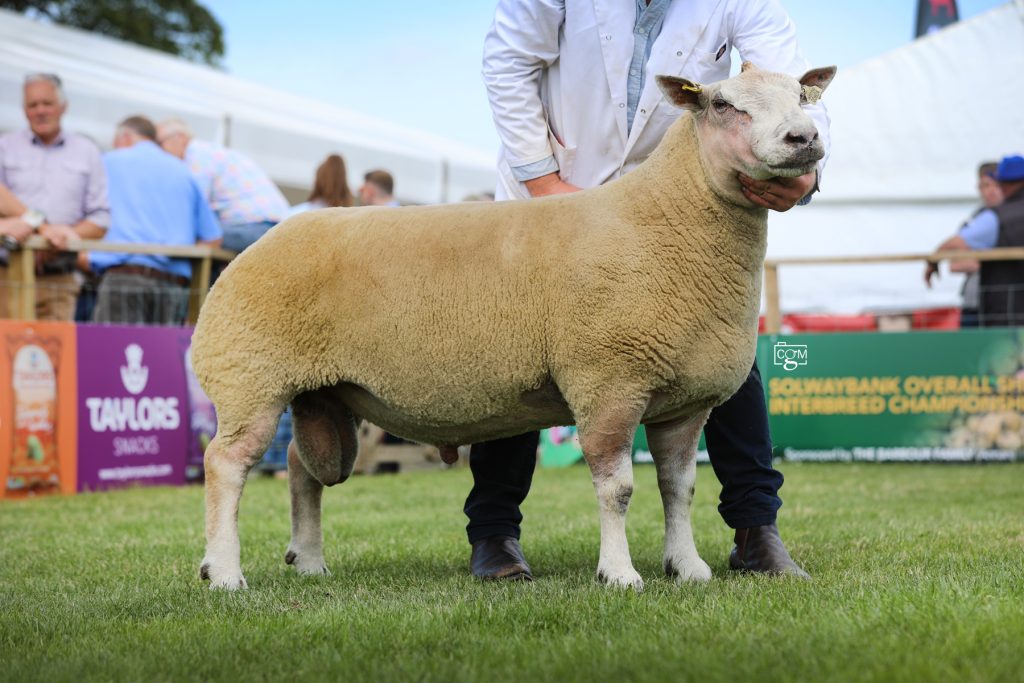 Clinching reserve breed honours under Arwyn was the reserve female champion and winner of the aged ewe class, a 2020-born Springhill Untouchable daughter from brothers Gregor and Bruce Ingram. This one is out of a homebred female by Rhaeadr Orlando.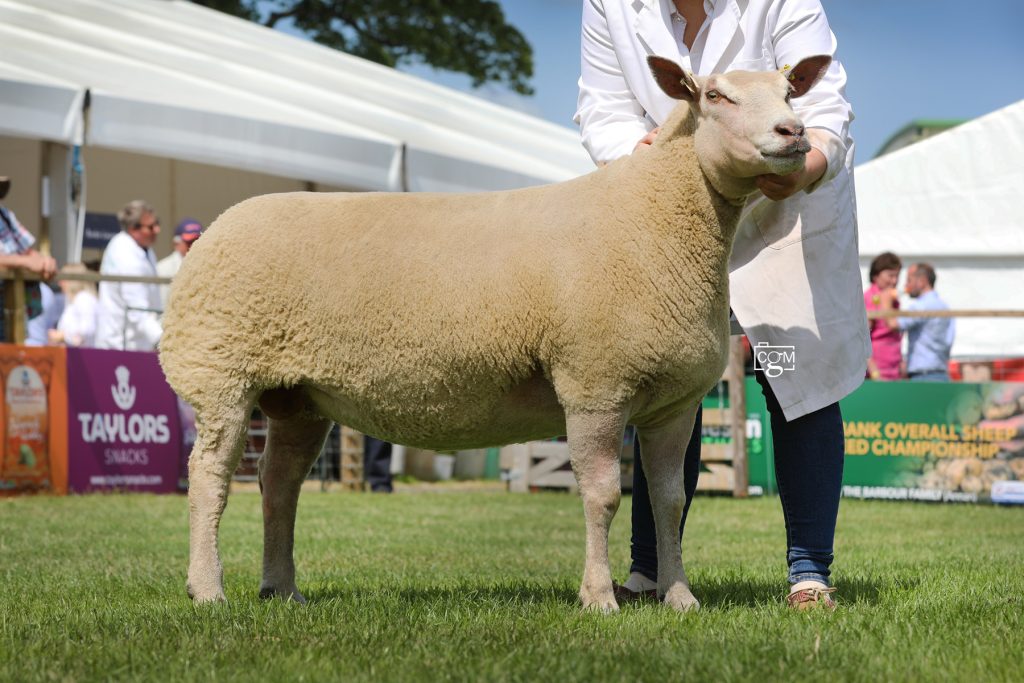 Securing the reserve male championship was the shearling ram winner, Wernfawr Ace, from William and Carole Ingram. Purchased at last year's Premier Sale for the top price of the day of 15,000gns, this one is by Logie Durno Wall St and is out of a Wedderburn female by Wrenvale Mad 4 Ewe.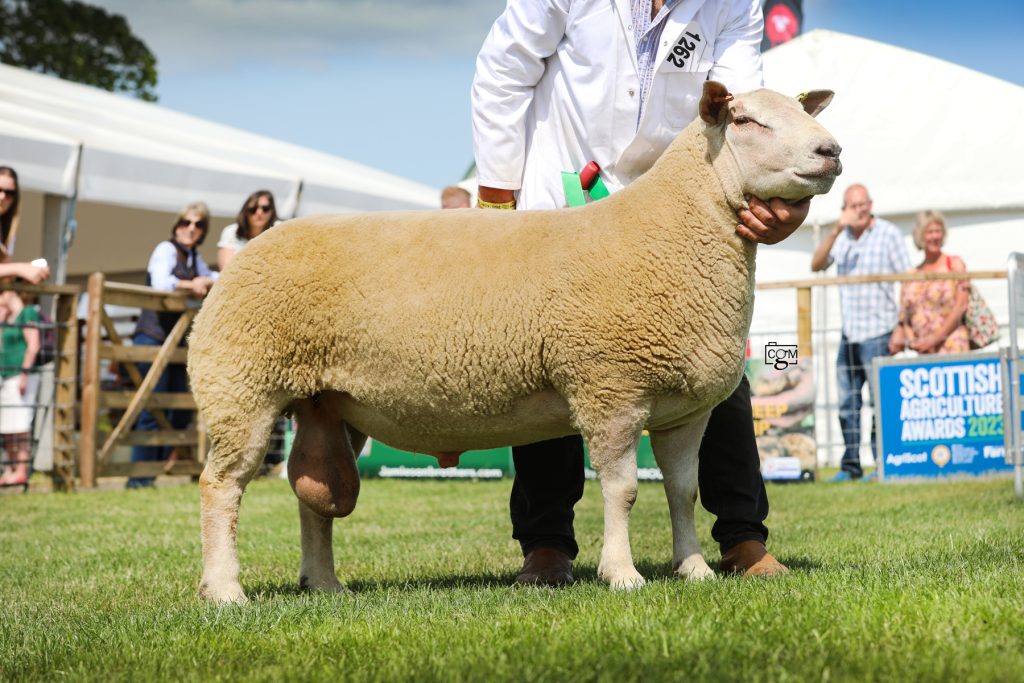 Winner of the ram lamb class were sisters Eilidh and Eric Duncan of the Braemuir flock with 23WHK00343, a son of their second prize aged ram Knockin Welterweight. This ram lamb is out of a Ffrwd Urbane daughter. 
Meanwhile, standing top of the ewe lamb class was a Logie Durno All Star daughter from William and Carole Ingram. This one is out of a homebred Dalnby Tuilagi daughter.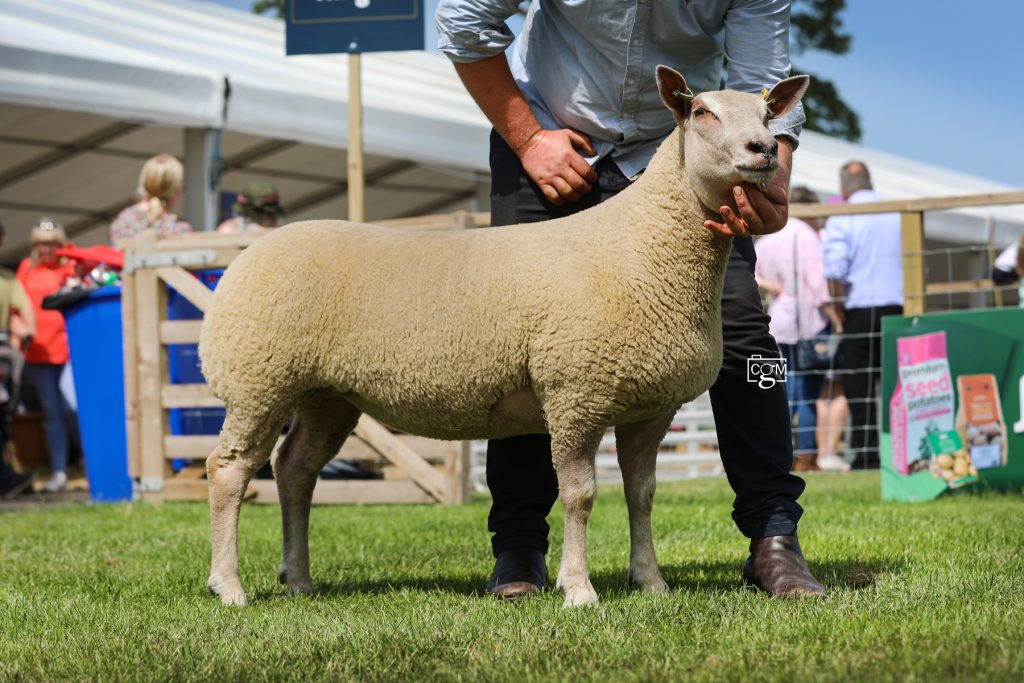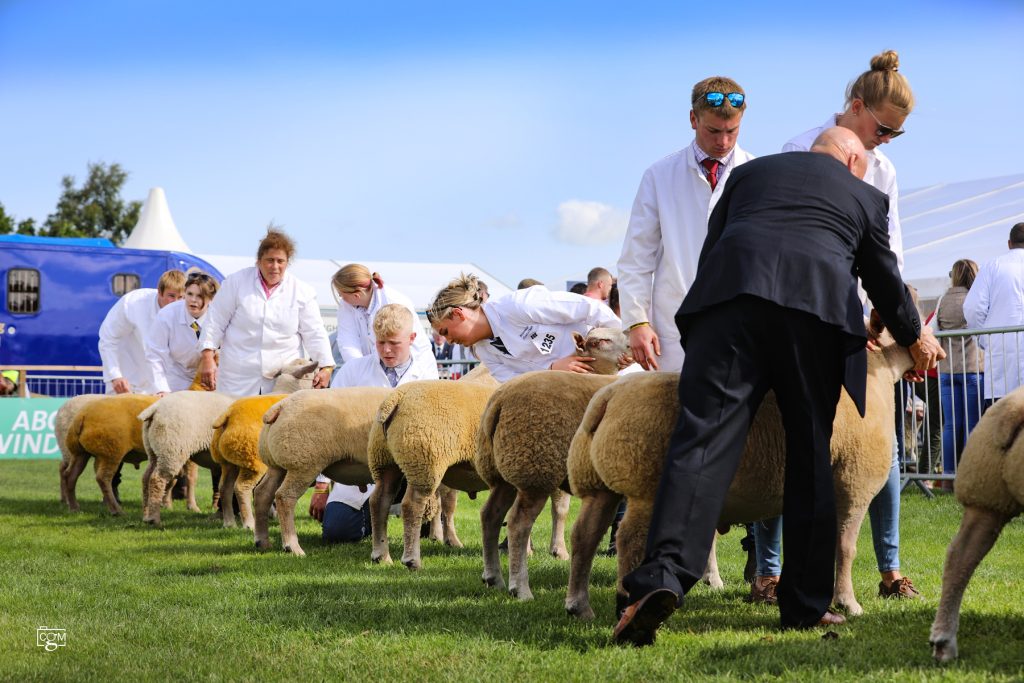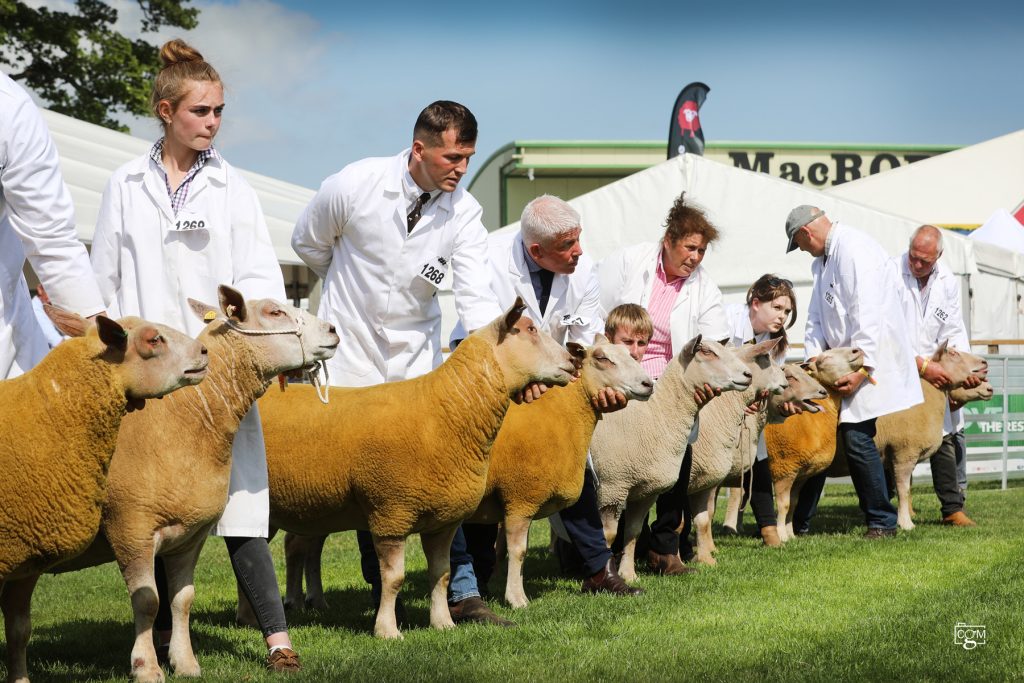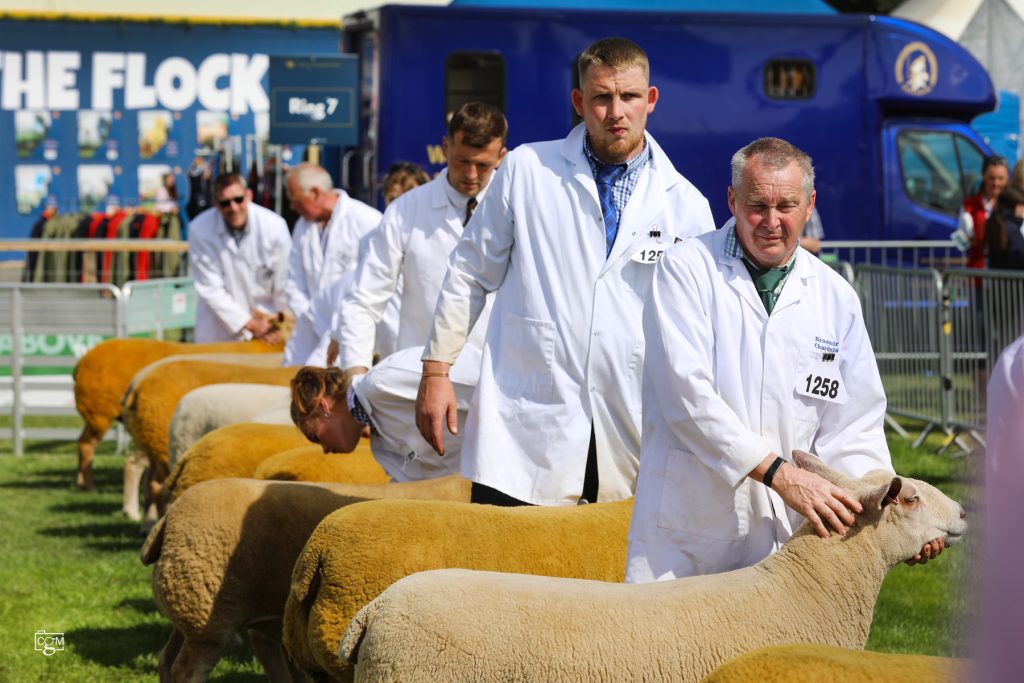 Class results: 
Ram, two shear or over
1st W and C Ingram – Foxhill Va Va Voom 20XWY00604
2nd E and E Duncan – Knockin Welterweight 21XXJ01030
Shearling ram
1st W and C Ingram – Wernfawr Ace 22XEV01914
2nd Messrs N R and S Henderson – Loanhead Ambassador 22WNC43554
3rd Messrs Sloan and Jackson – 22VFC00352
Ram lamb
1st E and E Duncan – 23WHK00343
2nd Messrs Sloan and Jackson – 23HR05401
3rd W and C Ingram – 23ZNN49188
Aged ewe
1st G and B Ingram – 20WNC32141
2nd Jonathan Aiken – 19ZXJ25563
3rd Charles Sercombe 21ZNN37419
Shearling ewe
1st Ben Radley – 22XZR01394
2nd G and B Ingram 22WNC43540
3rd Jonathan Aiken 22ZXJ32284
Ewe lamb
1st W and C Ingram – 23ZNN49168
2nd Ben Radley – 23ZXR01616
3rd Messrs Sloan and Jackson – 23HR05418
Group of Three
1st W and C Ingram
2nd Charles Sercombe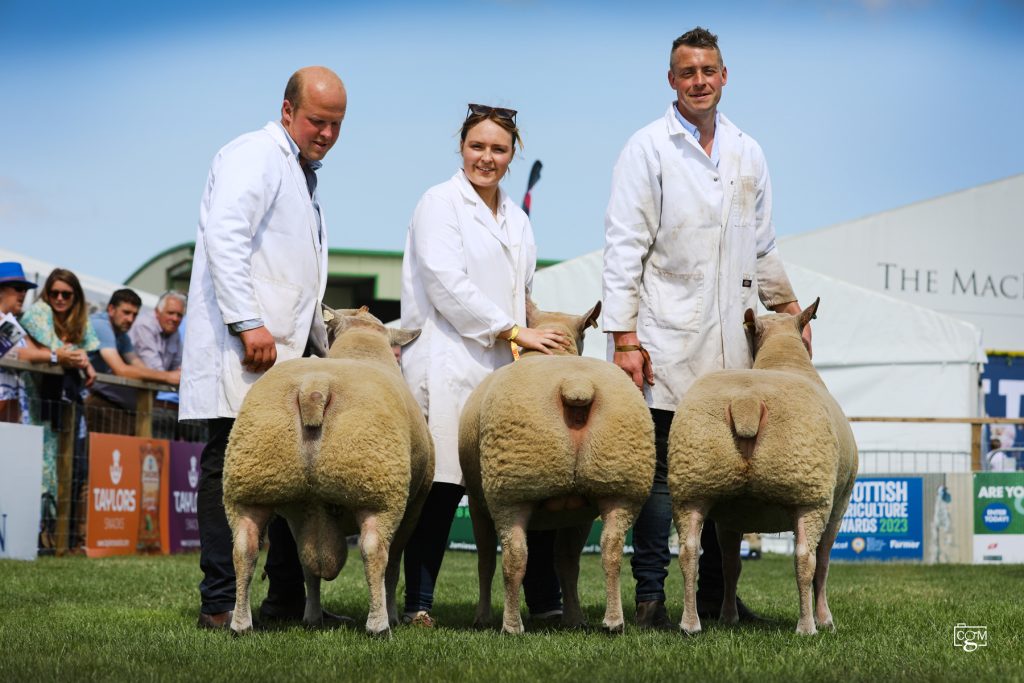 Champion male
W and C Ingram's aged ram – Foxhill Va Va Voom
Reserve champion male
W and C Ingram's shearling ram Wernfawr Ace 22XEV01914
Champion female
Ben Radley's shearling ewe 22XZR01394
Reserve champion female
G and B Ingram's aged ewe 20WNC32141
Overall champion
Ben Radley's shearling ewe 22XZR01394
Reserve overall champion
G and B Ingram's aged ewe 20WNC32141
Reserve interbreed
Ben Radley's shearling ewe – 22XZR01394
Interbreed Pairs
W and C Ingram's aged ram – Foxhill Va Va Voom
Ben Radley's shearling ewe – 22XZR01394