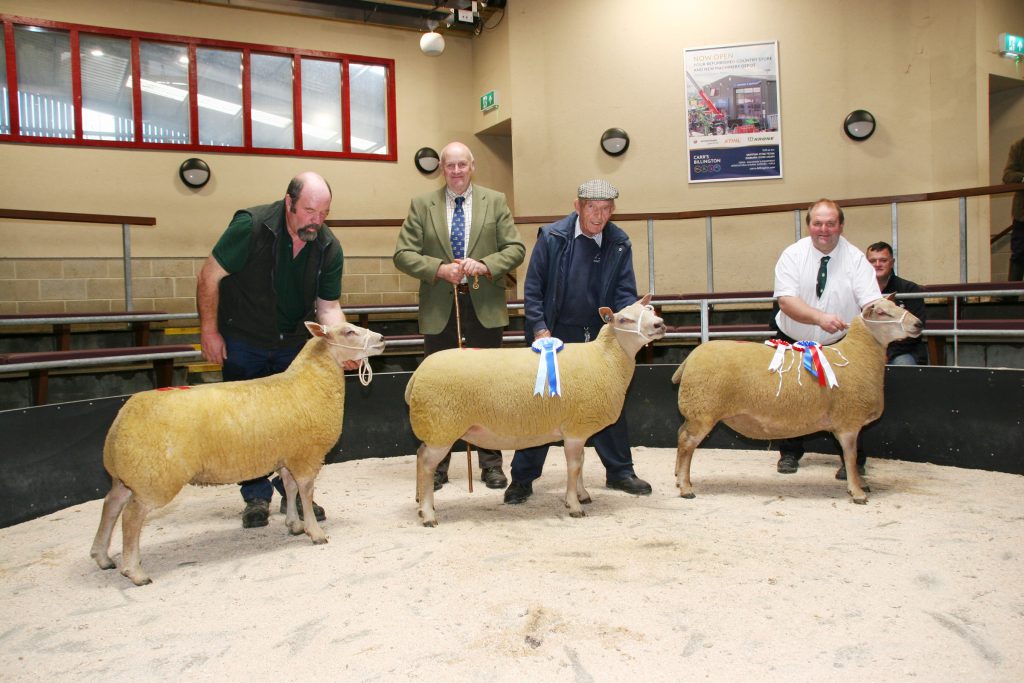 Selling females from their Skelton Whin flock for the first time ever at auction, Thomas and Judith Hunter were rewarded when one of their shearling ewes headed the prices at 2,500gns at the British Charollais Sheep Society's annual autumn show and sale of registered breeding females at Skipton Auction Mart.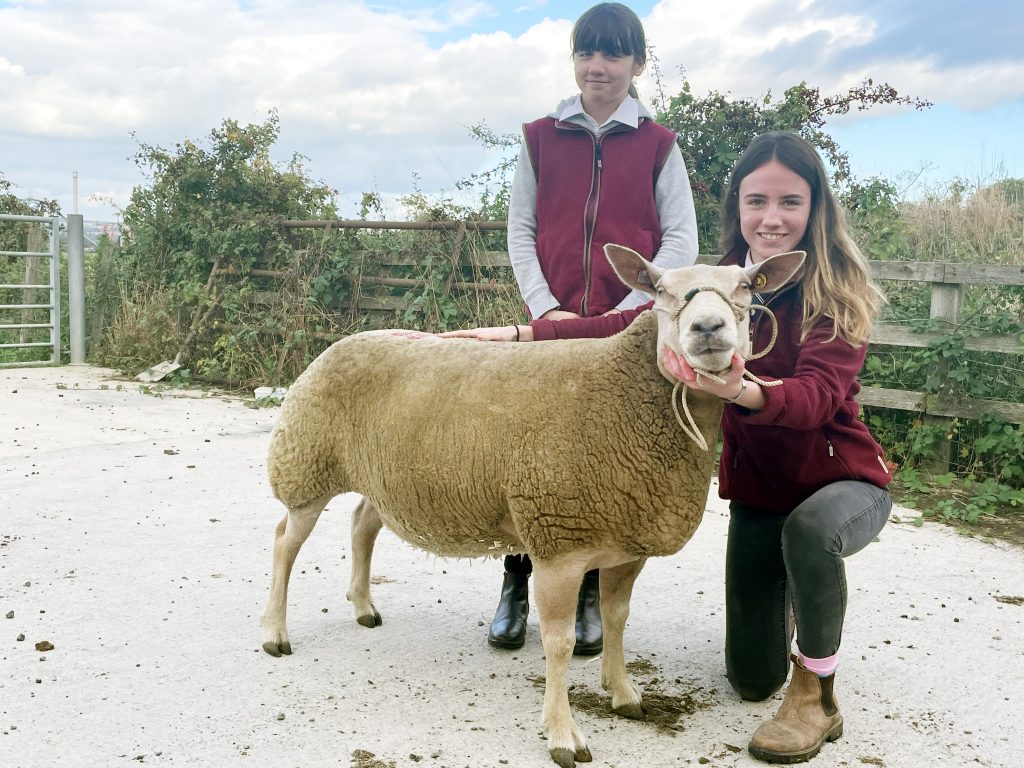 The Hunters, who run their flock at Hunmanby, near Filey, consigned four exceptional females, a brace of shearling ewes and two ewe lambs, all part of their successful show team, taking top price honours with one of the former, unbeaten in the exhibition arena as a ewe lamb and shown twice as shearling, with a breed and interbreed championship to her name.
Their December, 2020, single is by Boyo Uncle Brian, whose own sire was Ffrwd Top Notch, the 2018 Worcester Premier sale leader at 22,000gns, while the dam, Skelton Whin Orchid, stood female and reserve champion at the 2015 Great Yorkshire Show, selling privately later the same year back to the Boyo flock, run near Shrewsbury by David Roberts.
Uncle Brian has left the Skelton Whin flock with many show winners and his top-price performer, sold carrying a single lamb to the 17,000gns Worcester Premier 2021 sale topper, Foxhill Walkabout, went to fellow breeder Cyril Dougherty's Shamrock flock at Kirby Misperton, Malton.
Making 900gns was the Hunters' second shearling ewe, another December, 2020, single, this time by the Rainbow Lindisfarne son, Boyo Monkey, out of a home-bred dam by Skelton Whin Istabraq. Also winning red rosettes in the show area this year, she sold carrying twins to Foxhill Vincent.
The annual highlight certainly proved a happy hunting ground for the Hunters, as they also claimed the leading ewe lamb price of 1,600gns with another December, 2021, Boyo Uncle Brian single daughter boasting a hat-trick of first prize wins this year. She joined a phone bidder, Shrewsbury's DB Roberts, the second ewe lamb, one of December-born triplets, again to Uncle Brian, making 350gns, producing a Skelton Whin flock average for the quartet of £1,404.
There was another four-figure sale of 1,400gns for a shearling ewe from the Sulwood flock of Geoff and Carol Watson, travelling up from Desborough in Northants, with a December, 2020, single by the Castellau Royal Escort son, Ffrwd Samson, an Interbreed champion, out of a home-bred Tilton Pegasus-sired dam who was this year's show ewe and is herself out of Sulwood Over the Moon. Scanned carrying a single to Bincombe Warrior, acquired last year and responsible for both ram and ewe lamb show winners, she joined David Dennis's Silton flock in Over Silton, Thirsk.
The Watsons also stood second and reserve champion overall in the shearling ewe show class with a December, 2020, twin by the home-bred Sulwood Ultra Box, who has been the flock's main show shearling this year and always in the ribbons, standing first in class and also among the champion trio at Masham. Out of a daughter of Maerdy Norman and due twins to Bincombe Warrior, she made 700gns. With their Sulwood flock established some 30 years ago, the Watsons have now decided to sell their shearling ewes and 2-crop ewes and all six shearlings on offer at Skipton were successfully sold to average £705.50.
Scottish show judge Jim Neil, who runs the Runningburn flock in Stichill, Kelso, remained in the shearling ewe show class when awarding the supreme championship to the first prize winner from Skipton regular and breed stalwart, Kenton Foster, who runs the Fosters flock in Garriston, Leyburn. Breed stalwart Kenton Foster claims supreme championship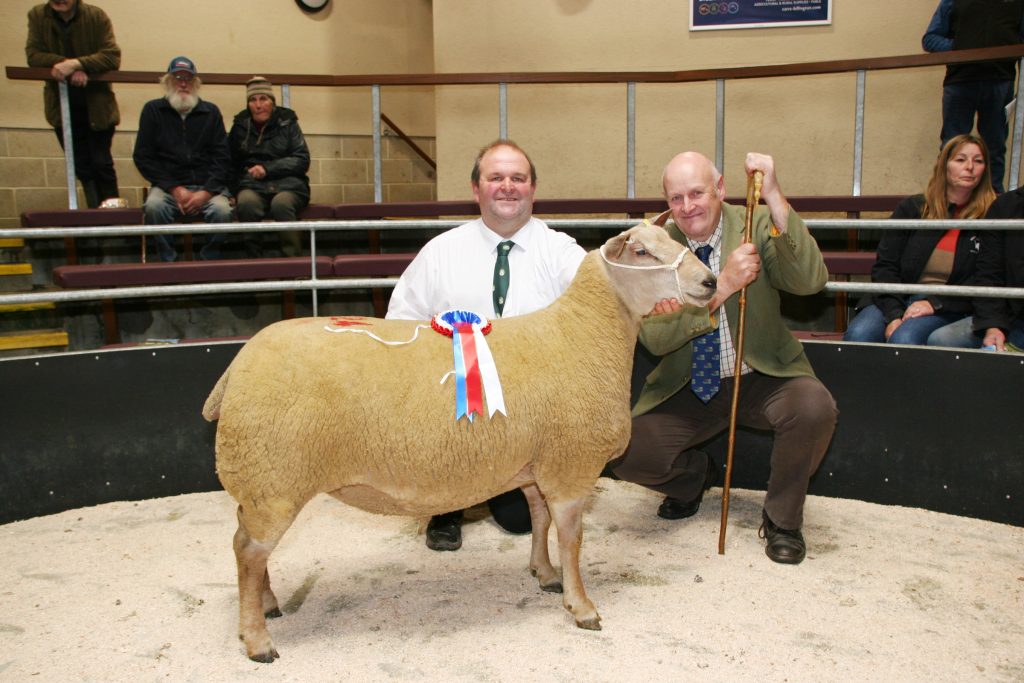 His May, 2021, twin by a home-bred ram himself by Galtres Rameses, had already stood champion at this year's Wensleydale Show. Out of a Gwyndy-sired dam, she was sold carrying twins to a home-bred stock ram, WTZ01225, who is the first son of the flock's 2019 Great Yorkshire Show reserve champion.
The buyers at 950gns were Emma and lorna Murray, from Shipley in Shropshire, who also went to 800gns to secure Mr Foster's fourth prize similarly bred January, 2021, shearling ewe that was Wensleydale Show reserve champion, again sold carrying twins by the same sire. In fact, six of the flock's consignment of eight shearling ewes were in-lamb to this sire, all but one successfully sold to an overall average of £699.
Mr Neil, who praised a strong show of sheep, shearling ewes in particular, turned to Chris Crowther's Shropshire-based Dudston flock from Chirbury in the Vale of Montgomery, for his first prize December-born single ewe lamb, out of a home-bred ewe first sold to local North Craven breeders Robert and Jackie Towers in Ingleton, then bought back as a yearling ewe in-lamb to Thackwood Warrior, bred in Cumbria by Jonathan Wales.
This, too, was acquired by the Murrays for 450gns, who bought five sheep in total. A second December, 2021 ewe lamb from the same home by Mortimer Ulysses stood third in show, making 300gns, the six-strong consignment of Dudston ewe lambs, including another two at 420gns and 350gns, selling to an overall average of £338.
The Towers, who run the Camp House flock, themselves sold a shearling ewe by Bronwydd Texaco, a 5,000gns acquisition as first prize ram at the 2021 Worcester Premier sale and never beaten in five show appearances last year, including male champion at Westmorland County Show. Scanned carrying twins to Willow Wasabi, she sold for 700gns to Stephen and Julie Hobson in Guiseley.
Cyril Dougherty himself finished runner-up in the ewe lamb show class with a December, 2021, single by Ballyhibben Soft Touch, out of a home-bred Parkgate Logan-sired dam. One of the Shamrock flock's show lambs this year, picking up multiple tickets, she sold for 420gns. Three further ewe lambs got away at 350gns, two coming from Charles and Valerie Marwood's Foulrice flock in Whenby, York, another from Oliver Chapman's Soloby flock in Slatfleetby, Louth.
Quality was on offer throughout the sale, producing improved overall averages on the year of £738 for shearling ewes (2021 £540) and ewe lambs £409 (2021 £396).
Class results:
Class 2 – Shearling Ewe
1st JK Foster Lot 24 sold for 950gns
2nd GC and CJ Watson Lot 31 sold for 700gns
3rd JK Foster Lot 23 unsold
4th JK Foster Lot 22 sold for 800gns
Class 3 – Ewe Lamb
1st C Crowther Lot 59 sold for 450gns
2nd C Dougherty Lot 42 sold for 420gns
3rd C Crowther Lot 60 sold for 300gns
4th O Chapman Lot 40 unsold
Champion – JK Foster Lot 24
Reserve – GC and CJ Watson Lot 31