The national progeny test project, RamCompare is about to enter an exciting new phase meaning successful ram nomination applicants will benefit from integrated data from a wider range of sources. 
The seventh year of data collection is almost complete with updated results due in May. Through this joint-levy funded project, over 38,500 commercially reared lambs, have contributed to the RamCompare dataset, sired by 401 different rams. This includes 88 Charollais rams used on the project to date with a total of 7,924 progeny.
Ram nominations open.
RamCompare uses nominated performance-recorded rams from various terminal sire breeds on commercial farms across the UK. The project is looking for rams with Estimated Breeding Values (EBVs) in the top 20% of the breed.
Natural service sires should be shearlings or stock rams with a known, high health status.
Older stock rams are welcome to be nominated, providing they are fit and fertile.
Frozen semen is also purchased in batches of 30 doses for use via artificial insemination (AI).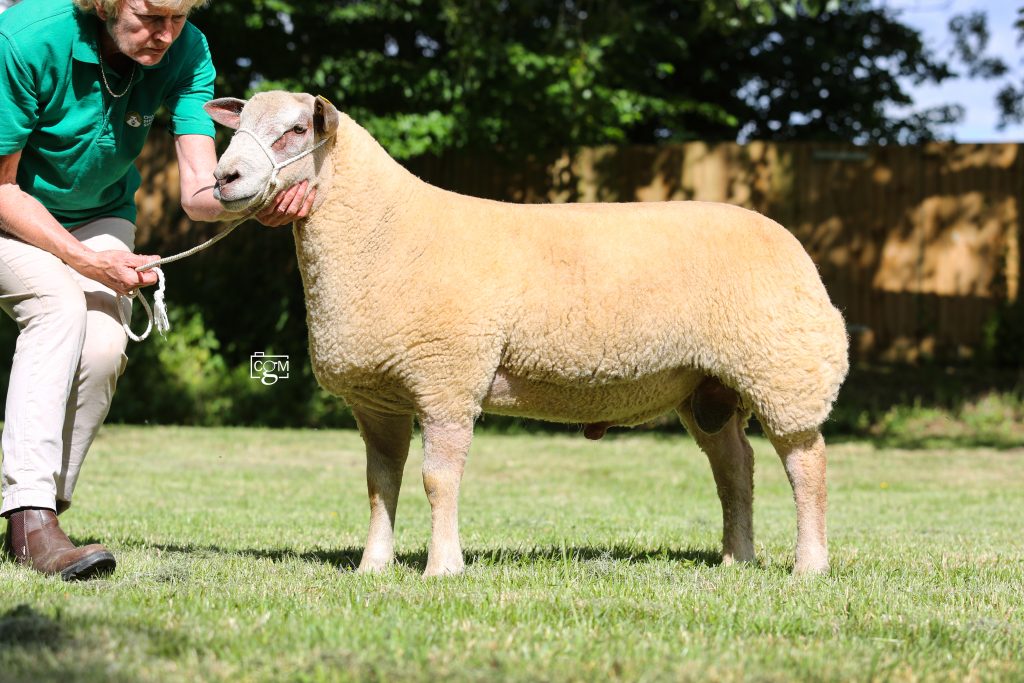 A team of around 80 new rams will be purchased this spring for use on commercial farms as part of the mating programme using AI sires or natural service rams for the 2023 mating season.
We collect data from over 5,000 lambs each year. Progeny are monitored from birth to slaughter the following year, providing vital data to Signet for national terminal sire breed evaluations.
Charollais rams provided to the project for last year's progeny include the following rams and results from these lambs, born in 2022, will be published in May.
| | | | |
| --- | --- | --- | --- |
| Sire Flockbook Number | Sire Name | Sire Breed | Farm |
| 12PE01524 | DALBY MOUNT ALOE | CHAROLLAIS | C R Sercombe |
| 17PE05855 | DALBY SHERMAN | CHAROLLAIS | J O & J A Nutting |
| 19WGH02085 | REDHILL | CHAROLLAIS | H L Nelless |
| 19WGH02192 | REDHILL | CHAROLLAIS | H L Nelless |
| 19XSP01313 | NEWMARKET | CHAROLLAIS | Redhill Charollais |
| 19ZVY05712 | LOWERYE U CRACKER | CHAROLLAIS | Adrian Coombe |
| 20AB01771 | CROGHAM VULCAN | CHAROLLAIS | Mark Exelby |
| 20SU00957 | HYDE VALEGRO | CHAROLLAIS | C R Sercombe |
| 20TG00951 | EDSTASTON | CHAROLLAIS | J O & J A Nutting |
| 20WGH02414 | REDHILL | CHAROLLAIS | Redhill Charollais |
| 20WGH02537 | REDHILL | CHAROLLAIS | Mark Exelby |
| 20WGH02585 | REDHILL | CHAROLLAIS | Redhill Charollais |
| 20WXL01136 | HOUDSHALL | CHAROLLAIS | Ian Robertson |
| 21DG10855 | FOULRICE WELLHARD | CHAROLLAIS | Redhill Charollais |
| 21PE09567 | DALBY WHAPPY CHAPPY | CHAROLLAIS | C R Sercombe |
| 21WGH02870 | REDHILL JUNIOR | CHAROLLAIS | Redhill Charollais |
| 21XPU04474 | RAINBOW WAE'AYEMAN! | CHAROLLAIS | Redhill Charollais |
We look forward to the new season lambs and following their growth over the coming months.
National Terminal Sire Evaluation
Data collected from the projects commercial progeny continues to strengthen the pedigree evaluation, enhancing sire prediction in terms of his genetic potential and accuracy value, enhancing breeding values generated through the National Terminal Sire Evaluation.
RamCompare highlights traits which drive productivity and optimise flock profitability
Abattoir data has been used to create a series of new breeding values, which highlight the most profitable sires
We have identified differences in progeny values worth £4-£6 per lamb – demonstrating the opportunity that exists to enhance flock profitability through careful ram selection
The project has shown how commercial farmers can improve efficiency and reduce the cost of lamb production through the selection of superior rams, while providing breeders with important information to enhance their breeding policies and increase rates of genetic gain.
Summary
The commercial value of traits varies from farm to farm, but by selecting those Signet recorded sires with the right combination of EBVs, producers can identify the most profitable rams for their business.
High Scan Weight EBV = Increased growth rates and reduced days to slaughter
High Scan Weight/Muscle Depth EBVs = Increased carcase weights
Superior Muscle Depth/Gigot Muscularity EBVs = Enhanced carcase conformation
Fat Depth EBV = Reliable indicator of the fat classification achieved by sire progeny
High genetic merit sires demonstrate increased progeny values worth around £5/lamb which equates to £1200-£1500/ram during their working lifetime
Careful ram selection can enhance flock profitability but few rams can do it all – some will excel for carcase conformation, others for speed of finish. Producers should evaluate their system and determine which sires have the potential to make the biggest financial impact.
Get others involved with RamCompare? If you know flocks who are collecting abattoir data from single sire matings in pedigree or commercial flocks and may be interested in working with us, please ask them to contact us directly. This data could help to enhance future genetic evaluations of pedigree flocks with some breeders/producers already starting to submit this additional information directly to Signet.
Remember ram/semen nominations close on 12May 2023 so please support us and nominate now!
For more information visit: www.ramcompare.com or www.signetdata.com or contact Bridget.Lloyd@ahdb.org.uk directly for more details.