Charollais trade hit a high of 15,000gns at the breed's Premier Sale, Worcester, when father and son team, Dai and Paul Curran, Talgarth, Brecon, topped the trade with a ram lamb from their Wernfawr flock.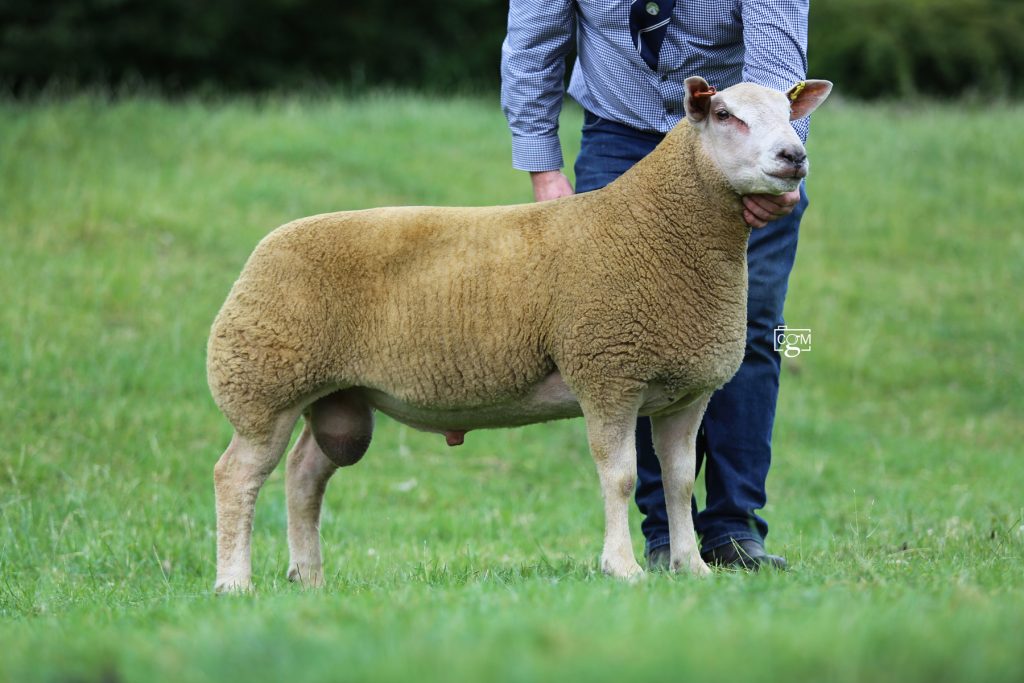 Sale leader, 22XEV01914 is by the 8500gns Logie Durno Wall St, which was purchased last year at the Premier Sale and is out of a Wedderburn-bred ewe by Wernvale Mad 4 Ewe. Having picked up a first place in his class, this one was subject to spirited bidding and was finally knocked down to W and C Ingram, Inverurie, Aberdeenshire, for the Logie Durno flock.
Next best in the ram lamb offering was sale debutant David Lewis, Narbeth, Pembrokeshire, with Pembroke Ancient King, a son of Boyo Vancouver and out of an Arbryn-bred ewe by Shamrock Northern Star. At 7500gns, this one caught the eye of A and A Whittaker, Jedburgh, Roxburghshire and A Gray and Son, Kirkfieldbank, Lanark.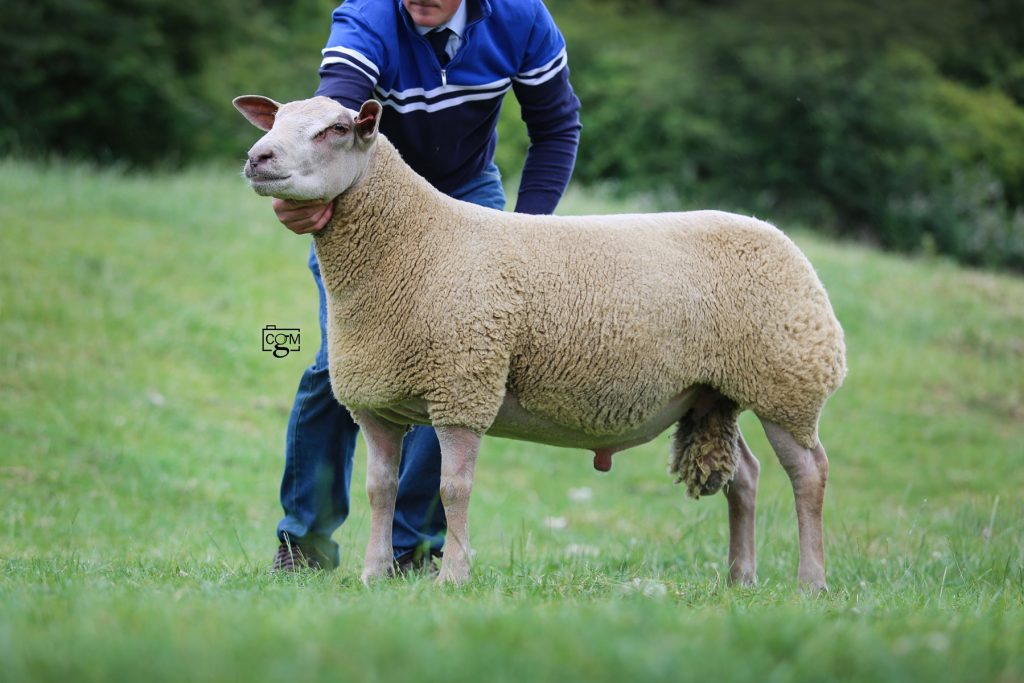 Just shy of that price tag at 7000gns was the best from Gregor and Bruce Ingram's Loanhead pen, Loanhead Al Pacino. By the 16,000gns Foxhill Va Va Voom and out of a Knighton-bred ewe which was purchased at the Knighton dispersal for 2200gns, this one sold to Mitchel Britten and Elizabeth Barber, Wymondham, Norfolk, for their Cavick flock.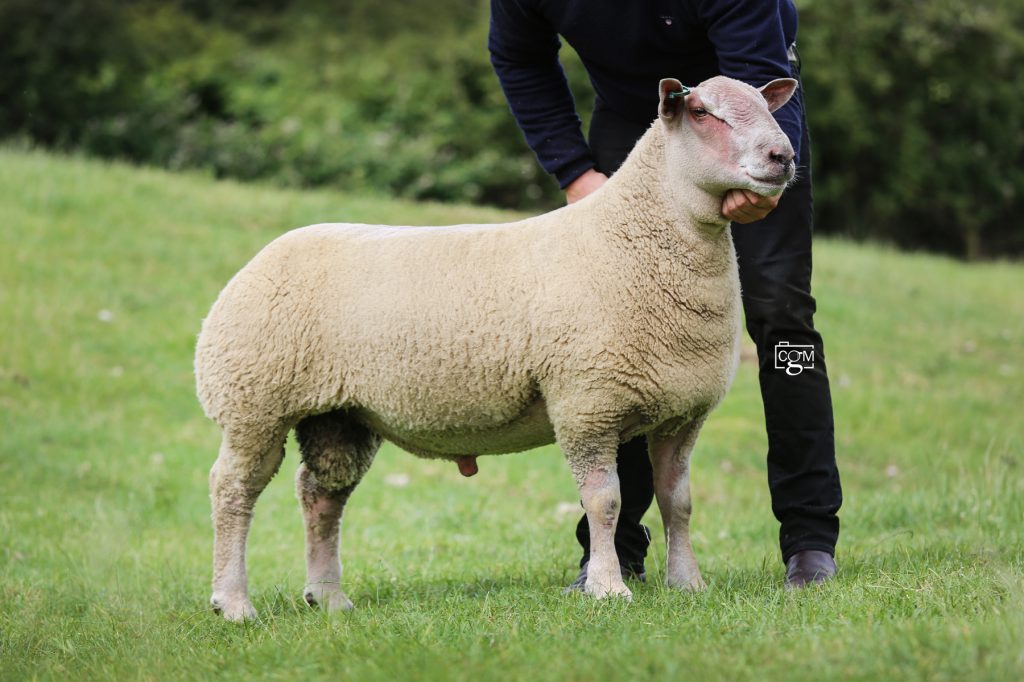 Pre-sale judge Edward Buckley, Macroom, Co Cork, Eire, backed his judgement to the tune of 5500gns when securing Logie Durno Amigo from the Ingram fmaily. This one stood ram lamb champion and reserve overall champion and is by Va Va Voom out of a Loanhead Talisman daughter.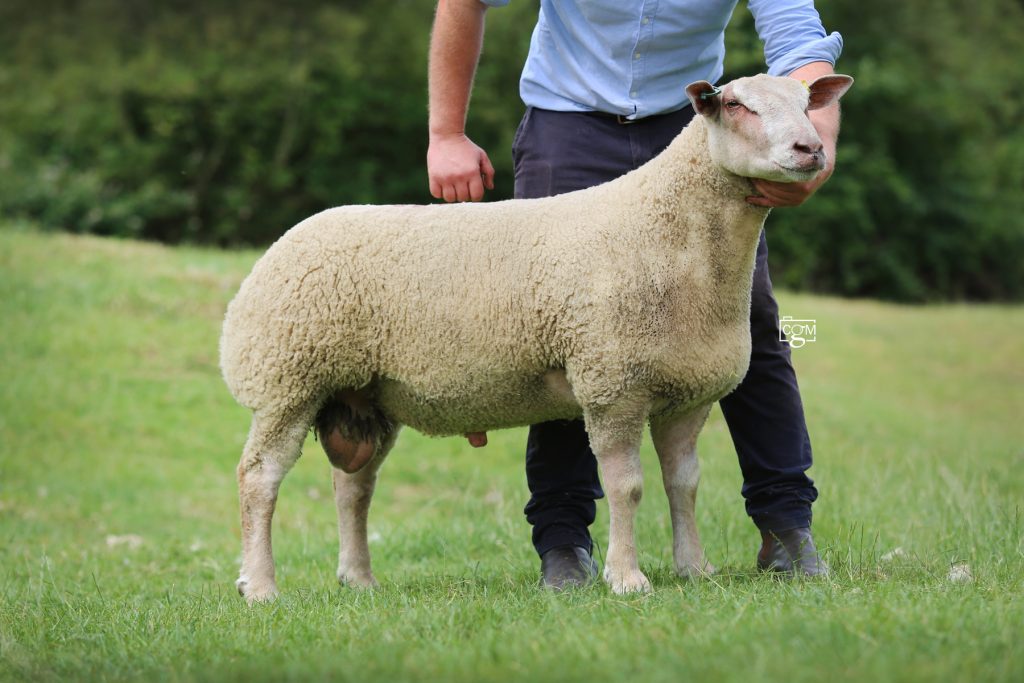 Back in action with the Ingram brothers, Loanhead Al Capone then sold for 5000gns to Grant Pink, Shrewsbury, Shropshire, for his Bicton flock. Again, by Va Va Voom, this one is out of a Dalby Tuilagi homebred daughter which won her class at the Royal Highland Showcase in 2021.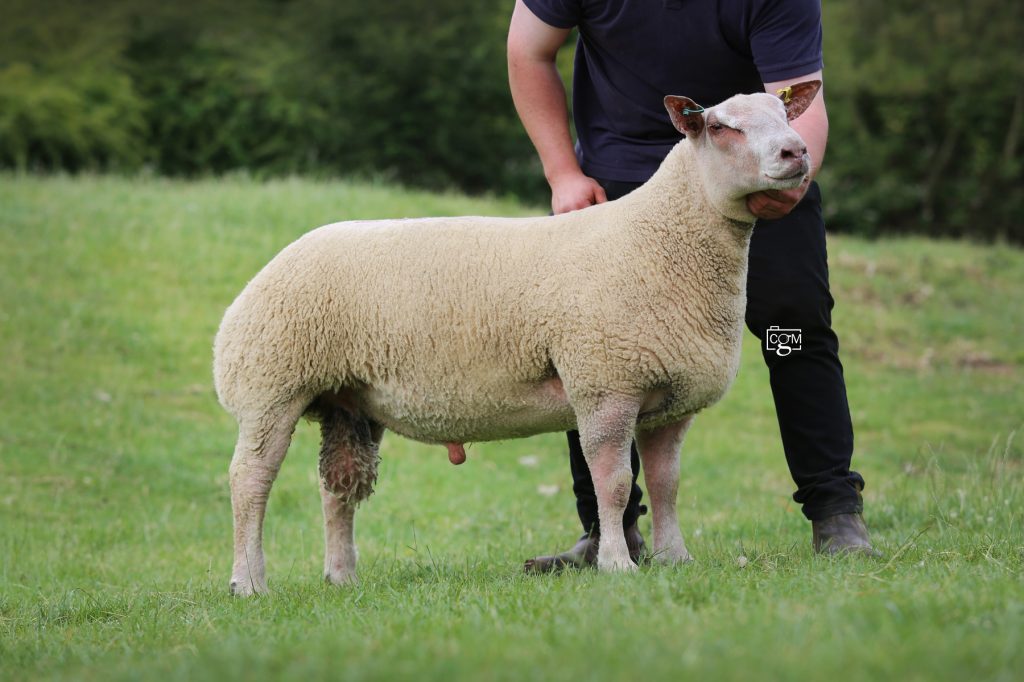 At 4000gns Society chairman Charles Sercombe, Melton Mowbray, Leicestershire, sold Dalby Ancelotti. By Dalby Ranieri, she is out of a Dalby Lazelle daughter. With an index in the top 5% of the breed, this one went home with Robert and Janette Gregory, Shrewsbury, Shropshire, for the Edstaston flock.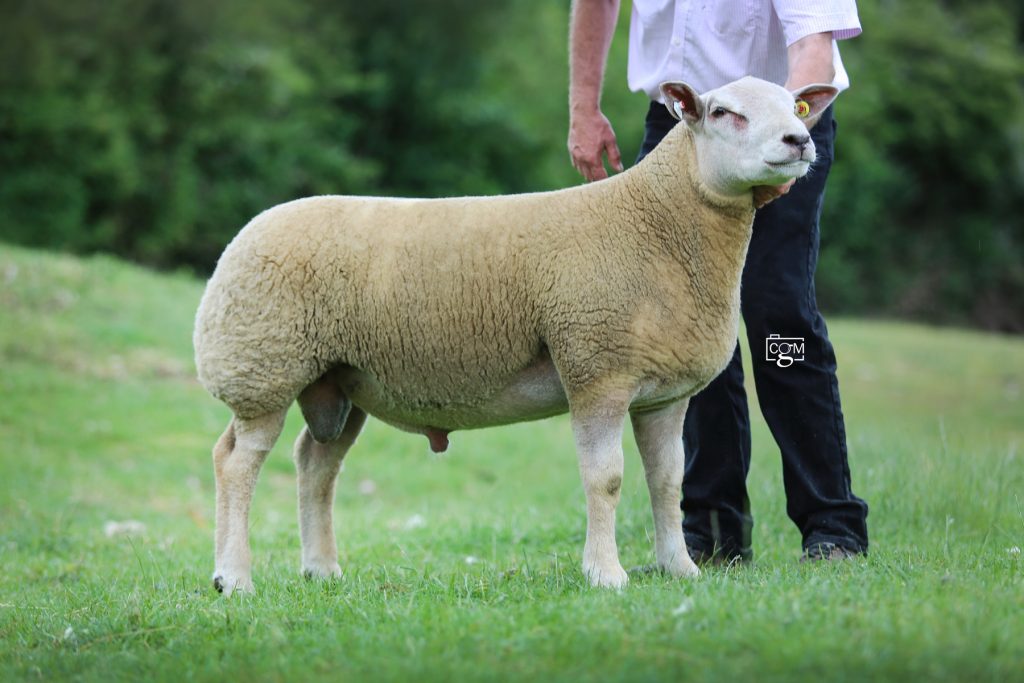 Back with David Lewis' Pembroke flock, his next best was the 3500gns Pembroke All Star. Again, by Va Va Voom and out of a different Arbryn-bred female, this one sold in a two-way partnership to Ed Simmons and Kate Esler for their Seymour, North Somerset-based Kingswater flock and Glastonbury, Somerset-based Tom Newth for his Prestleigh flock.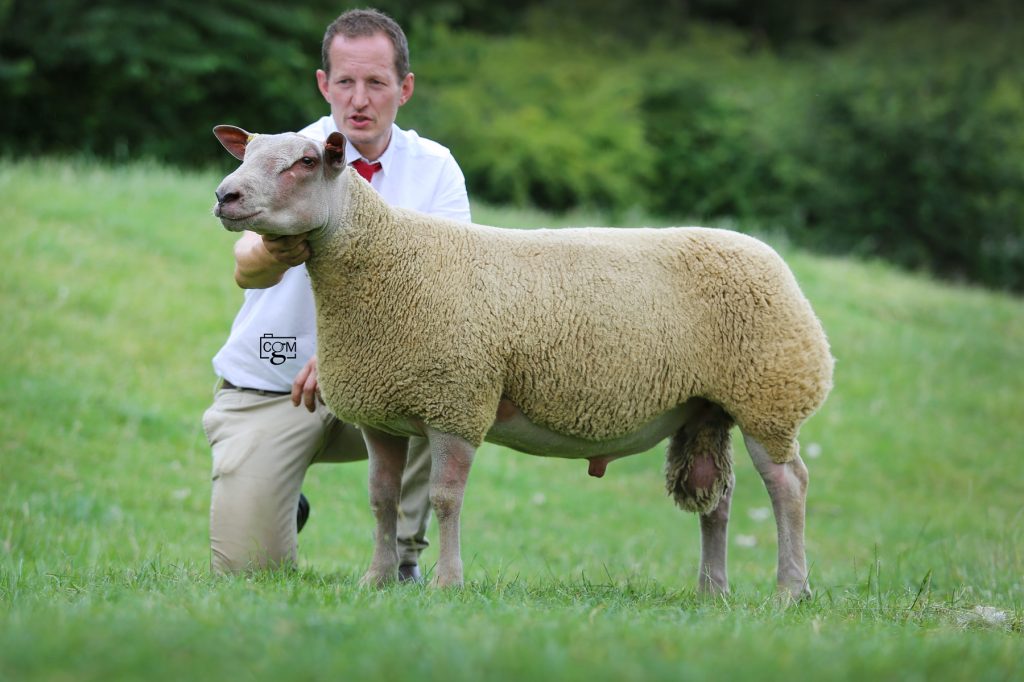 At 3000gns William and Carole Ingram sold Logie Durno Aristocrat. This was the first lamb to be offered by the 17,000gns Foxhill Walkabout and is out of a Logie Durno Untouchable daughter. Taking this one across the water was Norman McMordie, Saintfield, Co Down.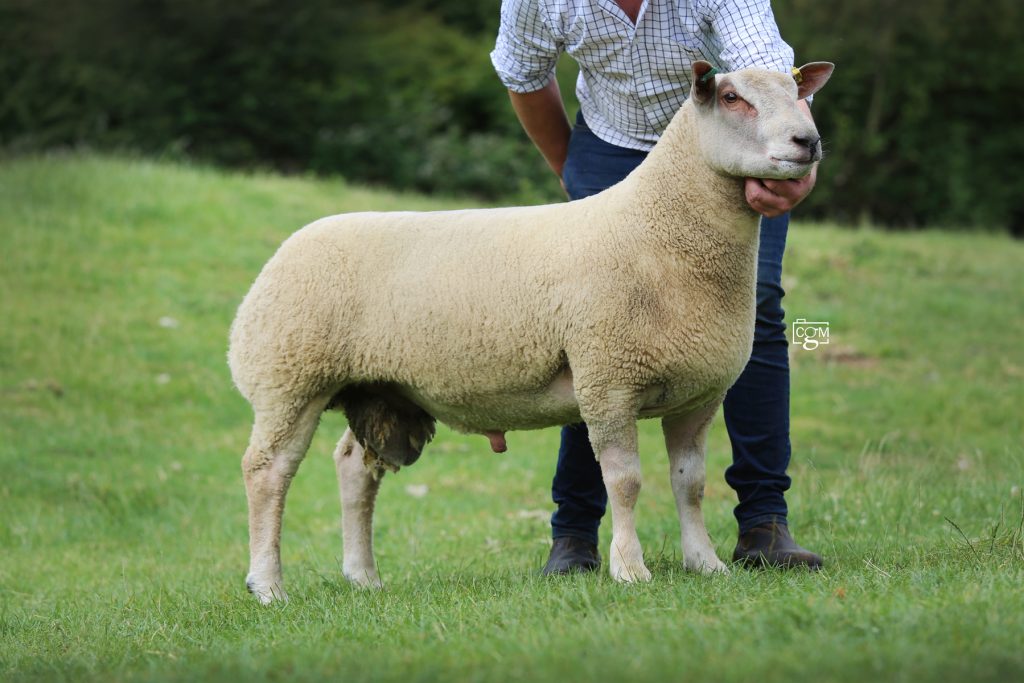 Then back with Gregor and Bruce Ingram's pen, Loanhead Alabama, another by Walkabout, sold for 2800gns. Again, out of an Untouchable daughter, this one caught the eye of M White, Sutton Coldfield, West Midlands.
Shearling rams
The Ingram family also dominated proceedings with their shearling ram offering with their leader being the 9000gns pre-sale champion, Logie Durno Walking Thunder. By Foxhill Va Va Voom and out of a homebred Rhaeadr Orlando daughter, he headed north with Jonathan Wales, Carlisle, Cumbria, to join his Thackwood flock.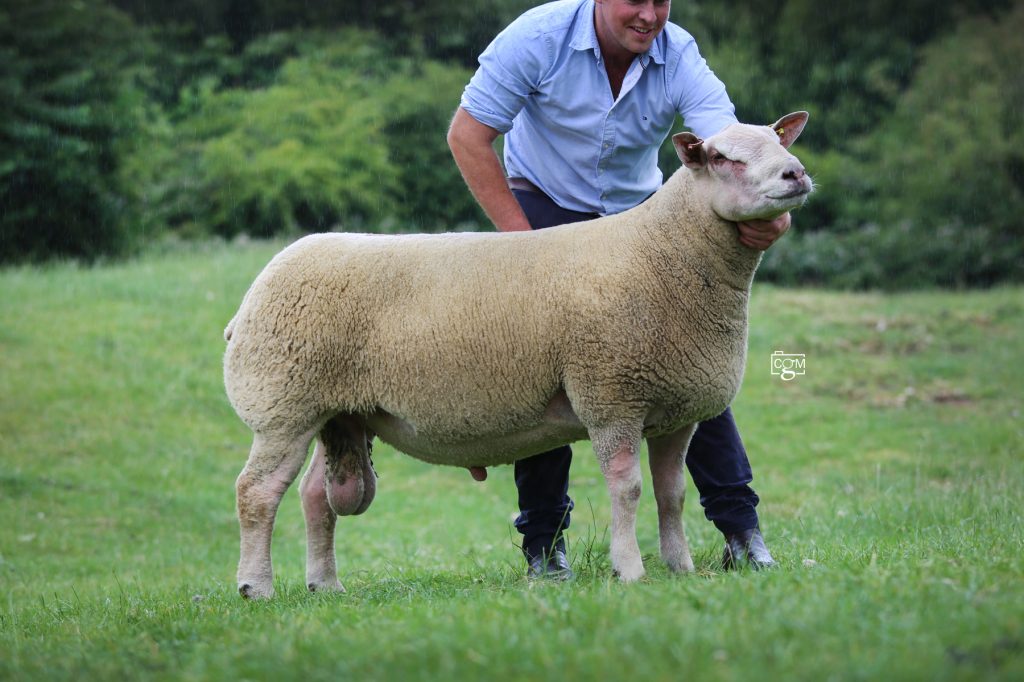 Meanwhile, two more sons of Va Va Voom from the same pen, Logie Durno Wrangler and Logie Durno Will.I.Am, then sold for 2200gns, the first of which went to Geraint Jones, North Wales, while the second was knocked down to Esmor Evans, Mold, Flintshire.
Shearling ewes
Fresh from their successful female trade at the recent Females With Figures Sale at Worcester, Mitchel Britten and Elizabeth Barber, Wymondam, Norfolk, took the highest price on the day of 3800gns in the small, but select shearling ewe offering.
Cavick What A Girl! is by Loanhead Vanquish and out of a Loanhead Midas Touch daughter, making her full sister to the 15,000gns Cavick What A Boy! This one caught the eye of William and Carole Ingram, for their Logie Durno flock.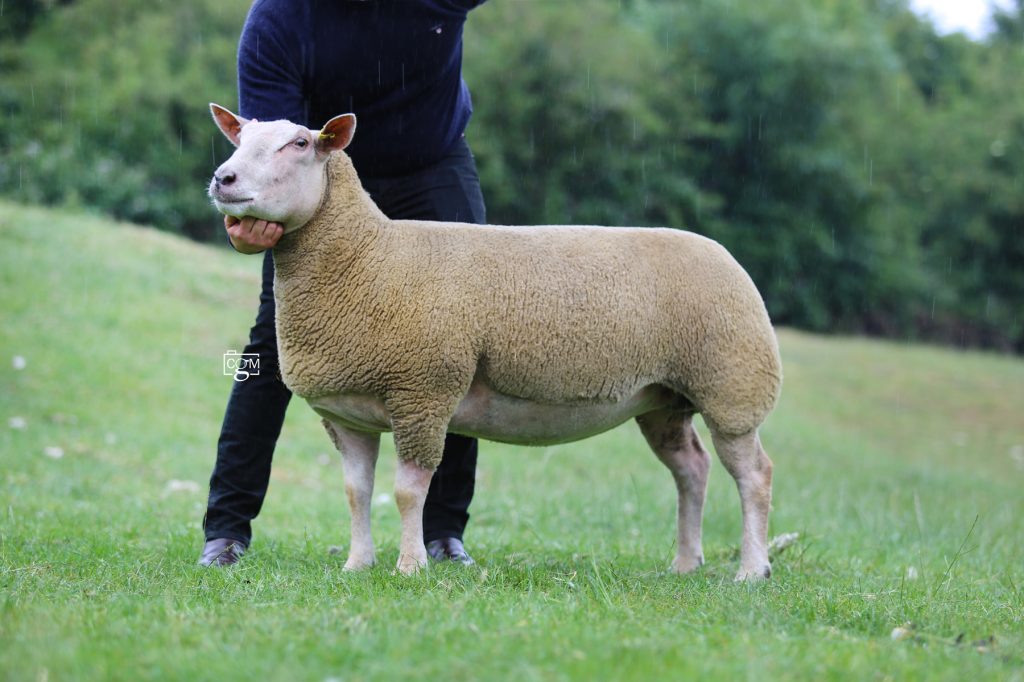 Recouping some of that investment, the Ingram family sold a pair of shearling ewes for 1500gns. The first was Logie Durno 21ZNN37343, a daughter of Logie Durno Vinnie Jones, which sold to R J Tindall, Wetherby, West Yorks, while the other was Logie Durno 21ZNN37325, a daughter of Dalby Tuilagi, which was knocked down to John Malone, Co Carlow, Eire.
Averages: nine shearling ewes £1271.66; 23 shearling rams £1810.10; 102 ram lambs £1353.57 (McCartneys). 
Images are available to purchase direct from Country Girl Media.