A shearling ewe from the Marwood family's Foulrice flock scooped championship honours at the Skipton female sale, as well as taking the top price on the day of 1400gns.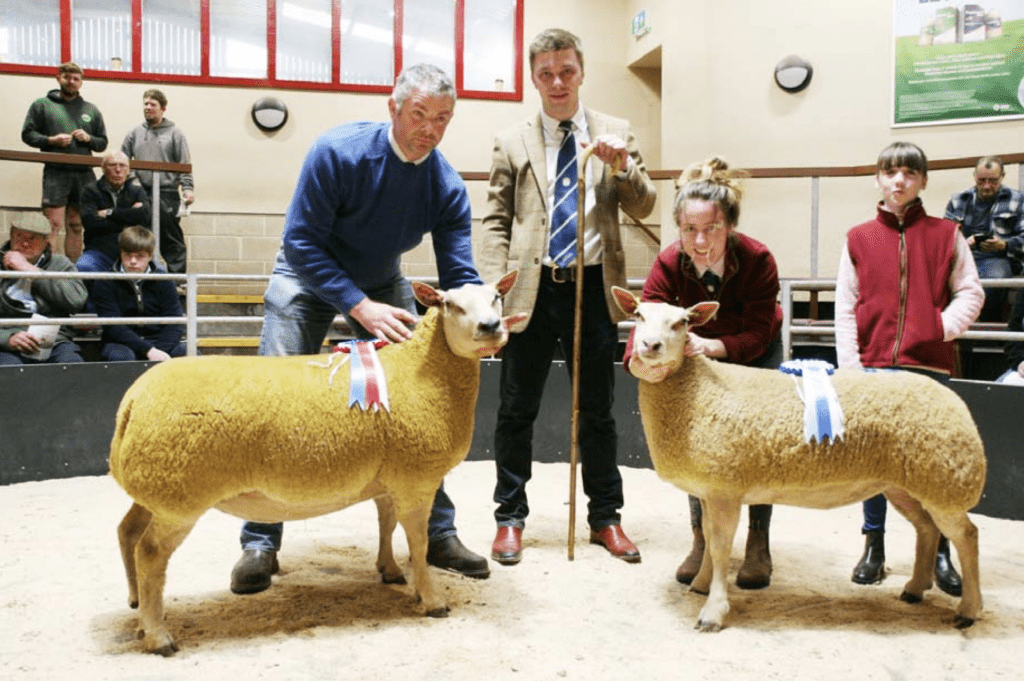 The Marwoods – Charles and Valerie, and son Stephen – took the top spot with a December 2019-born twin daughter of Foulrice Prelude, herself by Rhaeadr Nock, a tup acquired from Welsh breeder Myfyr Evans and a multiple champion and unbeaten interbreed winner when shown by Foulrice.
Out of a homebred daughter of Dalby Mount Aloe son, Foulrice Osprey, was offered carrying twins to the high index Foulrice Vunipola, a Sheldon Supreme grandson, whose own dam is a Dalby Sherman daughter.
Pre-sale show judge Oliver Chapman, who farms on the Marsh on the East Coast of Lincolnshire at Saltfleetby, Louth, described his chosen champion as an "absolute block of meat who will make a tremendous ewe," then promptly backed his judgement in the sale ring by claiming her for the day's top call for his own Soloby pedigree flock.
The Marwoods, who also picked up a further ticket in the shearling ewe show class, plus another with a ewe lamb, sold four other sheep at 500gns-plus, among them one at 600gns. 
Another fixture regular, Kenton Foster, who runs the Fosters flock in Garriston, Leyburn, had a nice run of shearling ewes, which topped at 680gns for a daughter of a tup from the Wales family's Thackwood flock in Carlisle and scanned carrying twins to a Loanhead sire. She headed home with Cyril Dougherty. A second Foster shearling ewe made 500gns.
Also catching the eye was Chris Crowther's Shropshire-based Dudston flock, who stood second in the shearling ewe show class with a January 2020-born daughter of Knockin Umptuous. Out of a home-bred Dudston Percy ewe served by Mortimer Ulysses, she sold for 580gns when also joining the Shamrock flock. Another shearling ewe from the same home achieved 500gns, while a brace of Dudston ewe lambs also made 450gns and 400gns.
However, it was the third prize ewe lamb from Cumbrian-based David Norman's Kirkhouse flock in Setmurthy, Cockermouth, that headed the section prices at 480gns. One of March-born triplets by a Hillside tup, himself by Foulrice Supreme, out of a home-bred dam, became another acquisition by the judge. Mr Norman sold two further ewe lambs at 420gns and 400gns, a price matched by another from David Dennis's Silton flock on Over Silton, Thirsk.
The sale, which achieved a good clearance rate, saw plenty of interest for in-lamb shearling ewes in the region of 350gns-500gns, producing an overall section average of £540 (2020 £579), with ewe lambs also finding a very strong following from 350gns-450gns, averaging £396 (£431). The trio of adult ewes averaged £350 (CCM Auctions).