Having won the breed championship at last year's show, it was time for Adrian Davies of the Glyn Coch flock to return to the Royal Welsh Show Charollais ring, this time as judge for the day's proceedings.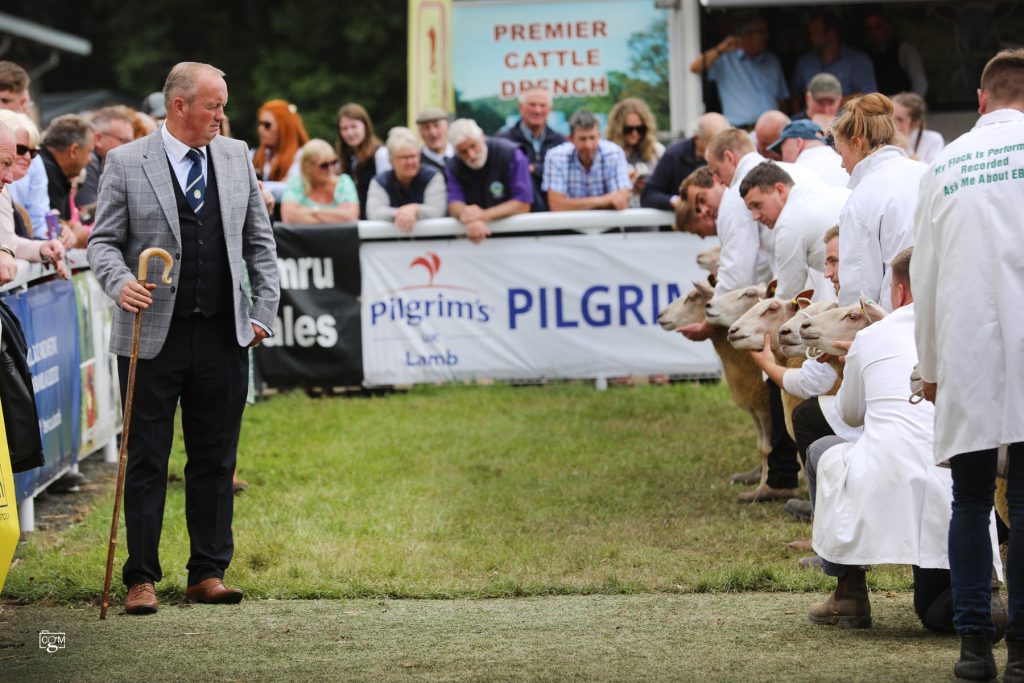 And with a much cooler temperature gracing this year's exhibitors than last year, he found his champion in the first prize winning shearling ewe, Tawelfa 22WBX02113 from Paul Amphlett, Brecon, resulting in a first time Royal Welsh Show championship win for Paul, his wife Ali and sons James and Ben.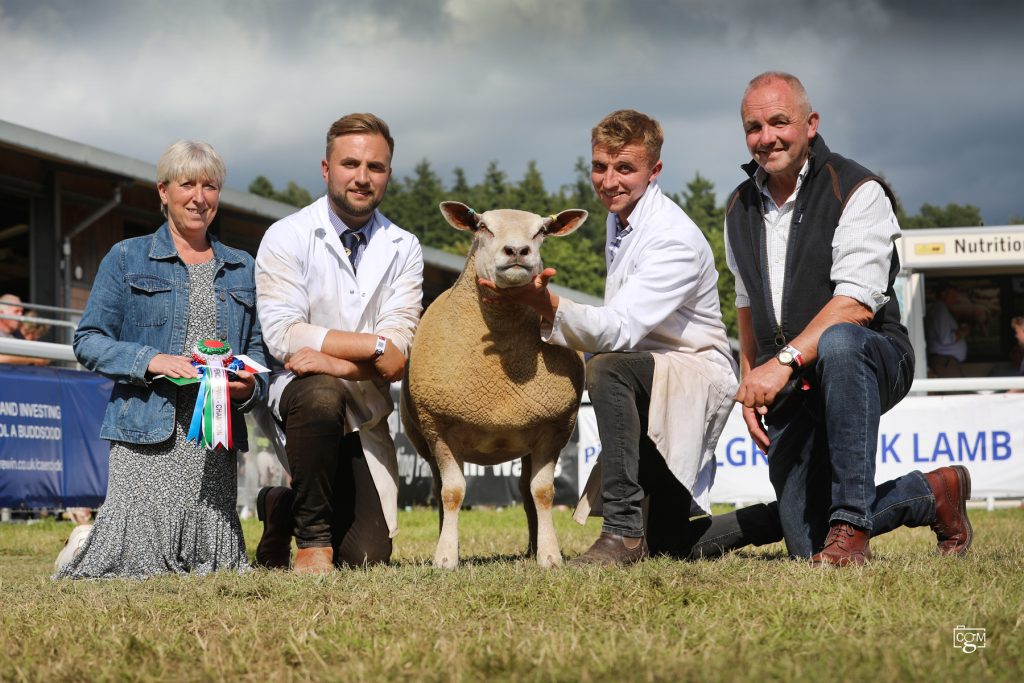 Having won two local shows as a ewe lamb last year, this one is an ET-bred daughter of Rhaeadr Vogue out of a homebred female by Edstaston Sotogrande. Commenting on his champion, Adrian said she handled incredibly well with a great top and loin. "The top three shearling ewes were fantastic examples of the breed, but she just edged it for handling that bit harder on her top."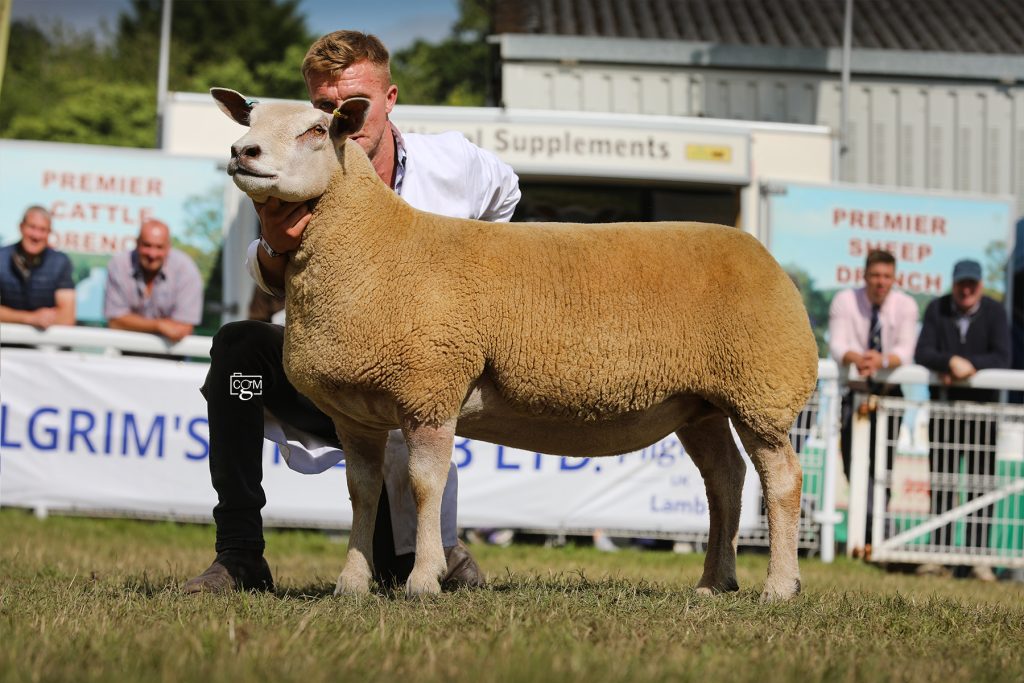 Standing reserve having come through as the winner of the ewe lamb class and then reserve female champion was Wernfawr 23XEV02191 from father and son team Dai and Paul Curran, Brecon.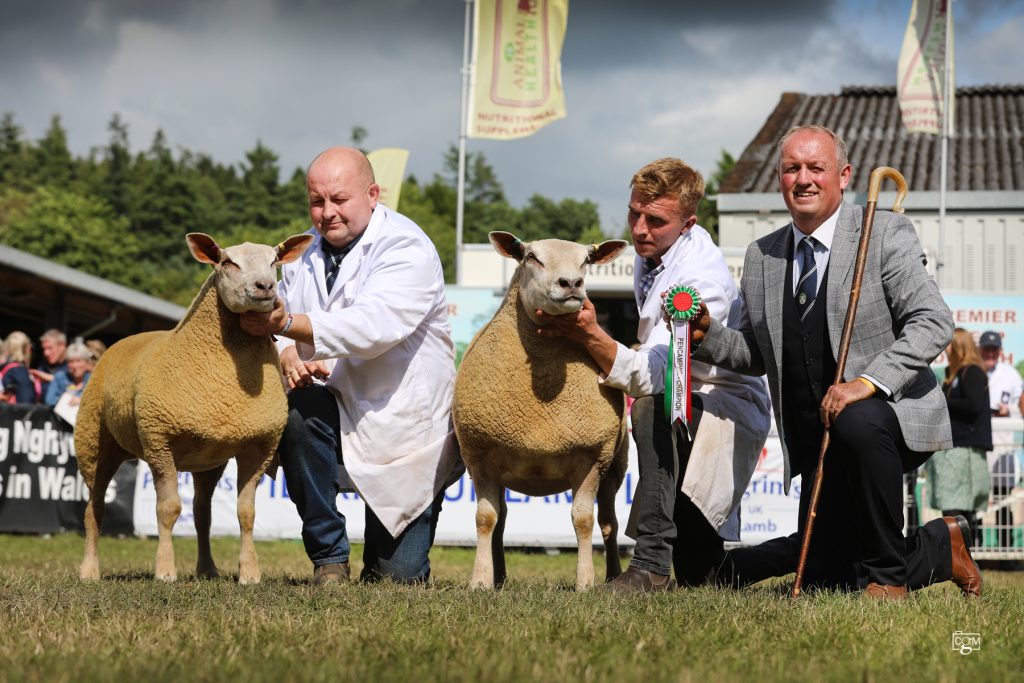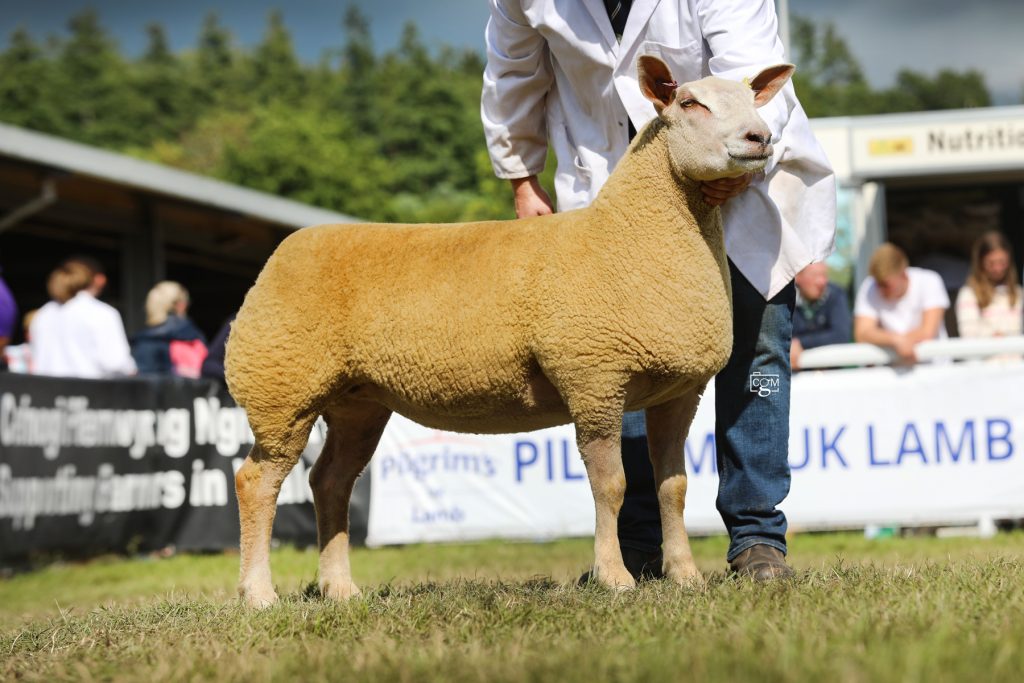 Praised for having tremendous style and presence, this one's sire is full brother to the 15,000gns Wernfawr Ace who stood top of the line in the male championship for William and Carole Ingram's Logie Durno flock.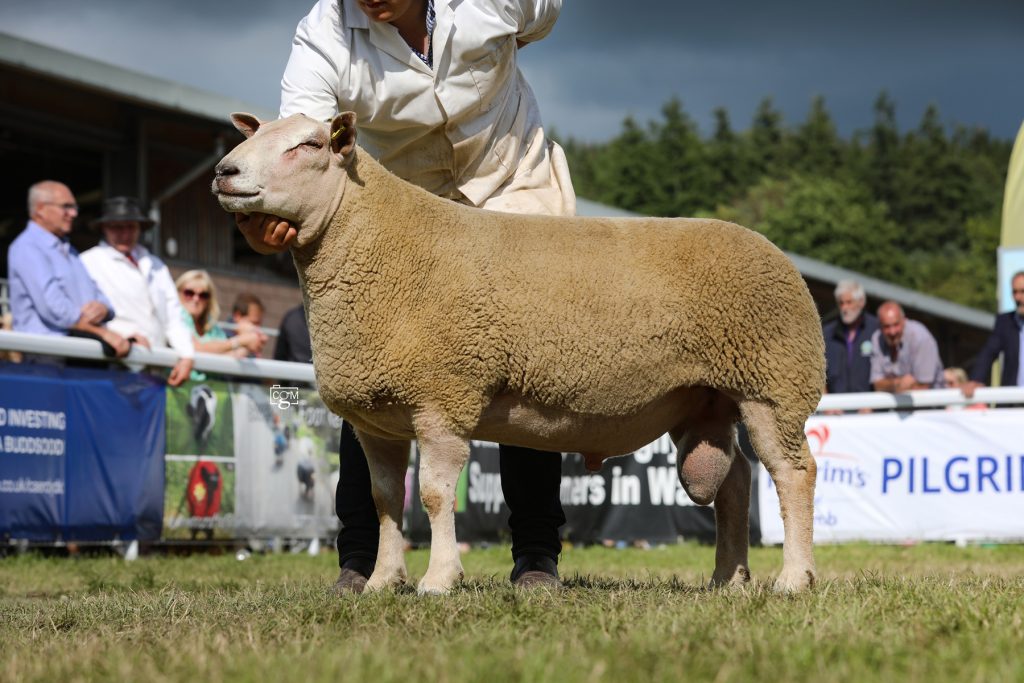 Ace is by the 8500gns Logie Durno Wall St and is out of a Wedderburn female by Wrenvale Mad 4 Ewe. He was sale topper at the 2022 Premier Sale and was also reserve male champion at the Royal Highland Show last month.
Clinching the reserve male honours was the aged ram winner and prolific championship winner Foxhill Va Va Voom from the Ingram family. By Loanhead Triathlon, he's out of a Foxhill bred daughter by Crogham Hannibal II and has previously stood male champion at this year's Highland Show, as well as countless championships last year including reserve at last year's Royal Welsh.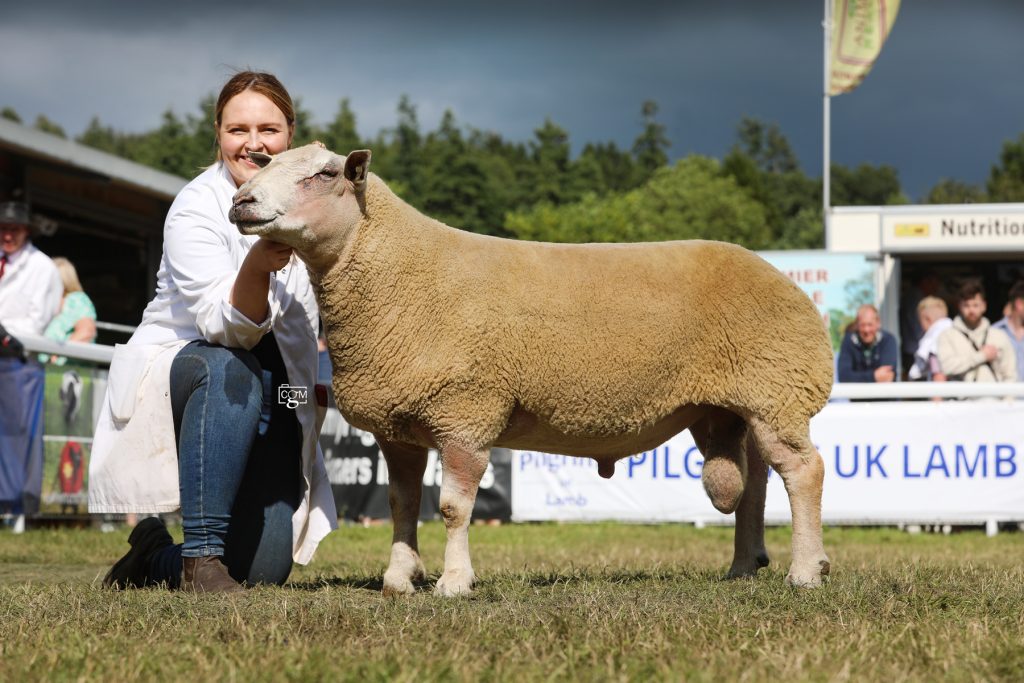 Standing at the top of the line in the ram lamb class was Robleston 23WGN06267 from R G and R A Jones and Son, Haverfordwest. By Loanhead Washington, this one is out of a homebred female by Rhaeadr Real Deal.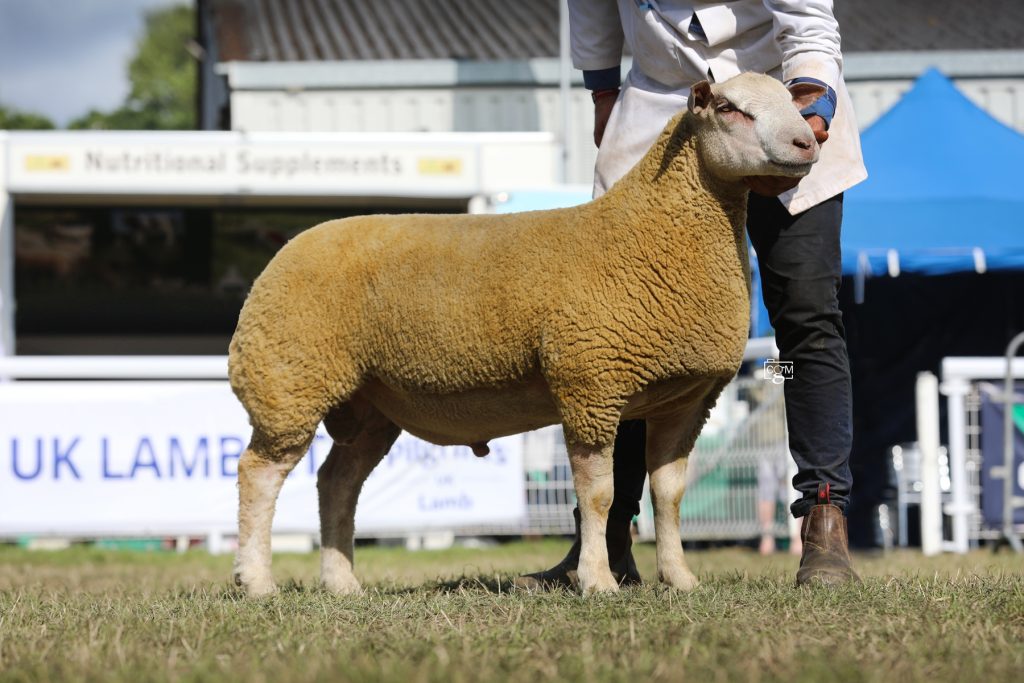 Meanwhile the winner of the aged ewe class came from Charles Sercombe in the form of 19PE07800, a Dalby Ranieri daughter out of a Loanhead female by Bawnard Bolt.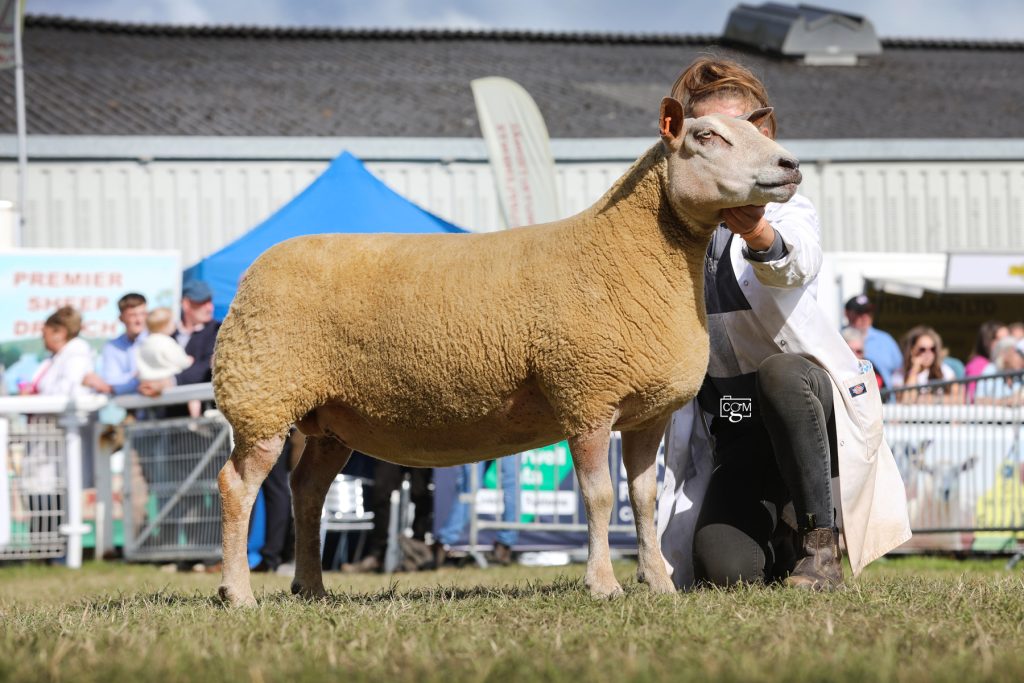 Having won the group of three breed class, Arwyn Thomas reigned supreme in the interbreed group of three championship, while the Charollais breed continued its winning form when the breed champion from Twelfa and the male champion, Wernfawr Ace, from the Ingram family teamed up to win the interbreed pairs.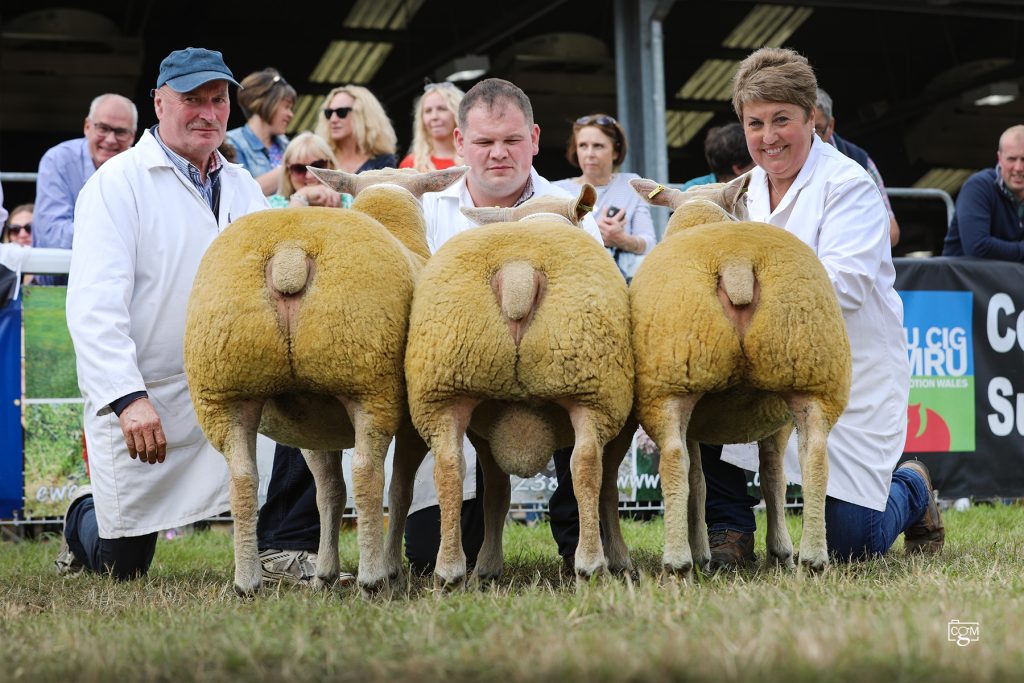 Class results:
Aged ram
1st G and B Ingram Foxhill Va Va Voom 20XWY00604
2nd C Sercombe Crogham Windsor 21AB01901
3rd L M Buckland 21XLT03950
Shearling ram
1st W and C Ingram Wernfawr Ace 22XEV01914
2nd C Sercombe 22PE10681
3rd R G and R A Jones and Son 22WGN05844
Ram lamb
1st R G and R A Jones and Son 23WGN06267
2nd P A Thomas 23WRF00984
3rd Gethin L Davies Moelfryn Balls of Fire 23WGC03077
Aged ewe
1st C Sercombe 19PE07800
2nd G and B Ingram 20WNC32141
3rd M Roberts 20ZNN32001
Shearling ewe
1st P G Amphlett 22WBX02113
2nd C Sercombe 22PE10691
3rd G and B Ingram 22WNC43540
Ewe lamb
1st D J Curran 23XEV02191
2nd W and C Ingram 23ZNN49168
3rd P A Thomas 23WRF00953
Group of three
1st P A Thomas
2nd G and B Ingram
Male Champion
W and C Ingram's shearling ram Wernfawr Ace 22XEV01914
Reserve male champion
G and B Ingram's aged ram Foxhill Va Va Voom 20XWY00604
Female champion
P G Amphlett's shearling ewe 22WBX02113
Reserve female champion
D J Curran's ewe lamb 23XEV02191
Overall champion
P G Amphlett's shearling ewe 22WBX02113
Reserve overall champion
D J Curran's ewe lamb 23XEV02191